Early morning at the bus station, a long night journey, lack of local bars and restaurants, that is what pushed us a couple of times to get some fast food. If it was possible, we were selecting local restaurants and local vendors but sometimes we had to grab something from big chains. If so, we wanted to try something, let's say, Mexican if such a word could be used 😉.
Mexican Torta with ham, cheese, cabbage and avocado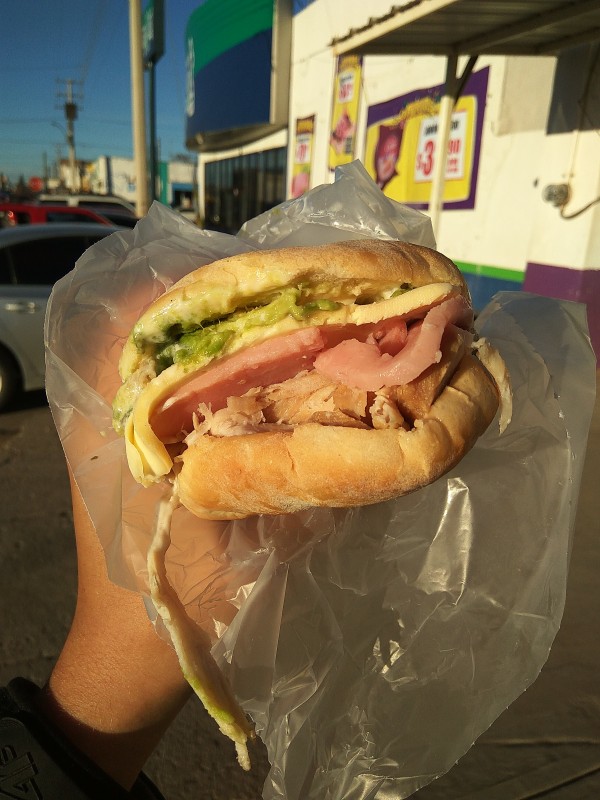 Our first Mexican fast food meal or at least a local fast and easy snack was a Mexican torta with ham, cheese, cabbage and avocado. Bigger than your palm, rather flat, with a reasonable amount of the filling had an interesting taste thanks to the avocado. Packed in a plastic bag was freshly made and moderately spicy.
Mexican Torta de pollo - a chicken club sandwich
After such a good start we tried another take-away sandwich, that time with chicken. Actually, we were not hungry, but as the people in the bus were buying them, we decided to do that too 😊. The choice was wider – bacon, ham, chorizo and pork, but we agreed on the fact, that chicken would be the safer option regarding spiciness. Well, our assumption was not correct. It was hot, the chicken was shredded, and the meat was tender. However, it was all in sauce. On top of the chicken was lettuce, a slim slice of tomato and onion.
Burritos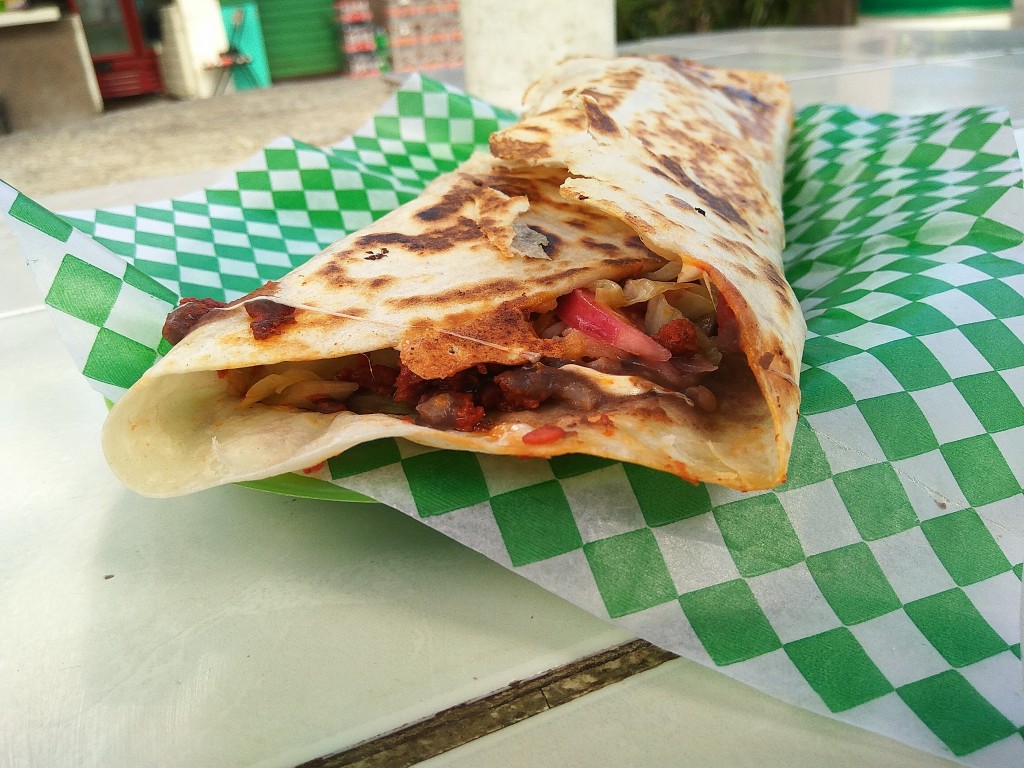 Of course, if there is such a possibility, order a burrito instead. Tortillas with different kind of meat, vegetables and sometimes cheese will surely do the work. Grilled or fried, with a melting and soft filling is something you won't regret. It is surely the best choice!
Danish pastries and sandwiches
Some bus companies offer their travelers a lunch box. I should rather say a food bag 😉. In it you will get a drink – any kind of a 'refresco' soft drink like Coke or just plain water; a sandwich and something sweet or a fruit. Usually you can expect it to be an apple or a cereal bar. Maybe nothing special, but still something nice to have for a long journey 😊.
Hamburgesa - Local Hamburgers
So close to United states, Mexican fast food menu had to adopt some American's food staples. Especially hamburgers. Hamburgesas, as they call it are sold in many places. From food stalls, in restaurants and just from a basket carried by a man or woman.
Local hamburger stalls very often have whole sets including French fries and a small soft drink. Sometimes, hamburgers are combined in a set with hot-dogs. Yes, it was surprising, but still true.
If you go to a local restaurant, in their menu you will probably find a lot of hamburgesas. Usually inside you will get a beef or pork meet, cheese, onion and some kind of a salsa. Dressings are moderately spicy, but you can always add some more salsa roja or salsa verde afterwards. Further varieties include bacon, mushrooms and rarer eggs.
So, for example you could find:
BBQ tocino - meat, BBQ salsa, bacon, gouda cheese, tomatoes and onion
Hamburgesa Champions - meat, fried mushrooms, gouda cheese, avocado and salsa habanero.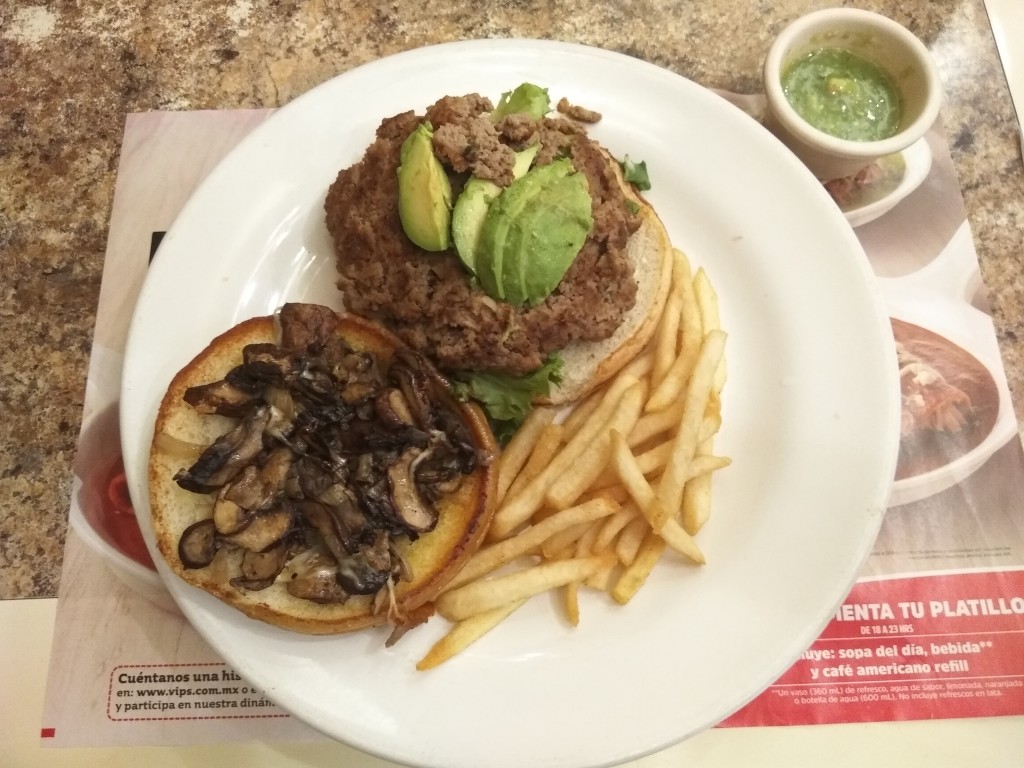 Hawaiana – meat, ham, gouda cheese
Habanero crunch – meat, crispy onion rings, caramelized onion, gouda cheese and habanero dressing
Maxicana - meat, a traditional Oaxacan cheese, caramelized onion and with traditional guacamole
McDonald's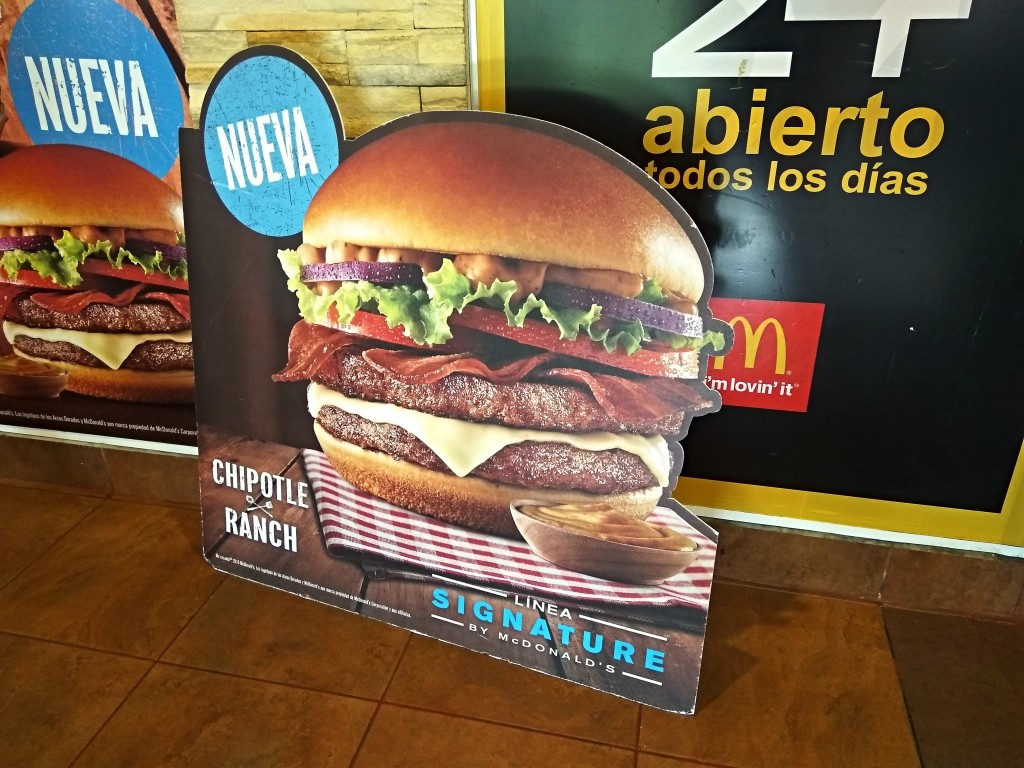 If you are really tired, you can always try McDonald's menu. Their Premium Line offers special burgers, that are, let's say, more sophisticated. The time we were in Mexico Premium Line menu included Signature Club House, Chipotle Ranch and Signature BBQ Crispy onion. Bigger than regular ones, with more ingredients, more fresh vegetables, double meat and unique dressings.
McDonald's was sometimes a good option for a quick and early breakfast. As in some places, local restaurants were opening later than we wanted, we were heading then to McDonald's. Their breakfast menu included McMuffins with eggs, bacon, sausages, pork loin and McMuffin a la Mexican – Mexican style muffins. Apart from that, you could get hot pancakes with sausages, scrambled eggs and a local McBurrito a la Mexicana with scrambled eggs, sausages and tomatoes. But, McDonald's has also breakfast sets that include a juice or coffee.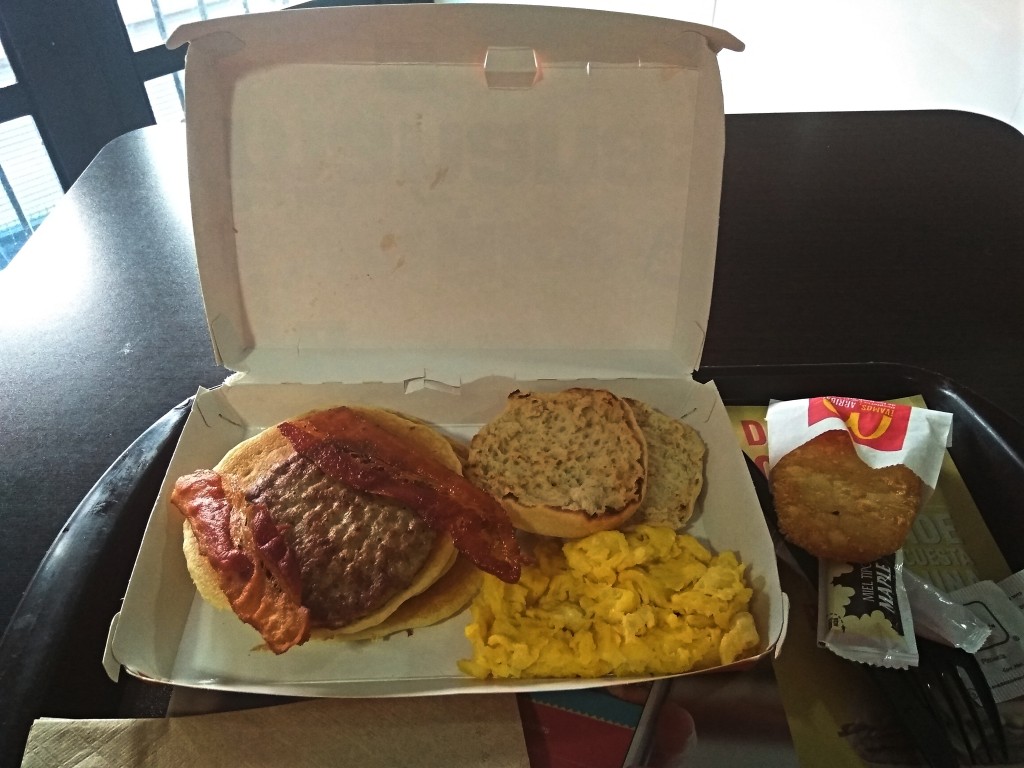 In Desayuno DeLux (huevo, esponjositos hotcakes, papa hashbrown, muffin, salchicha y tocino) you will get scrambled eggs, pancakes, a potato hashbrown, a muffin, sausage and a slice of bacon.
In Desayuno Especial Mexicano (Huevos a la Mexicana, McMolletes y salchicha) you might expect scrambled eggs with tomatoes served with a sausage and with a muffin topped with cheese.
Finally, there is Desayuno Especial (huevo, salchicha, papa hashbrown, muffin) that includes scrambled eggs, a sausage, a potatoe hashbrown and a muffin.
So, as you can see, the fast food selection is wide and, only if you like that kind of a food, you won't be hungry. Of course, in Mexico is also Burger King, Domino's Pizza, Subway and Pizza Hut, so really, need to worry!
And remember, if there is such an option, you can try local Mexican street food instead.
See related