Are you curious what to eat in Mexico? What is the best authentic Mexican food? Here we made a list of 19 best meals that you cannot miss while on the stay in Mexico. Doesn't matter whether you are traveling on your own, you are on an organized trip or just staying in a resort - you must try them. Even though you might think, you already know them from Mexican restaurants in your country, nothing more misleading! You must try them in Mexico! Don't concentrate yourself only on tacos, burritos or quesadillas. Instead, try something more! See how they are prepared, served and seasoned. Smell the meal just from the beginning, observe precise cuts, added herbs and finally served on your dish.
The list includes both vegetarian and non-vegetarian food, but we hope, everyone finds something for himself. Well, of course, if not all of them, as it was in our case :D
TOP 19 Mexican food that you MUST try
1. Cochinita pibil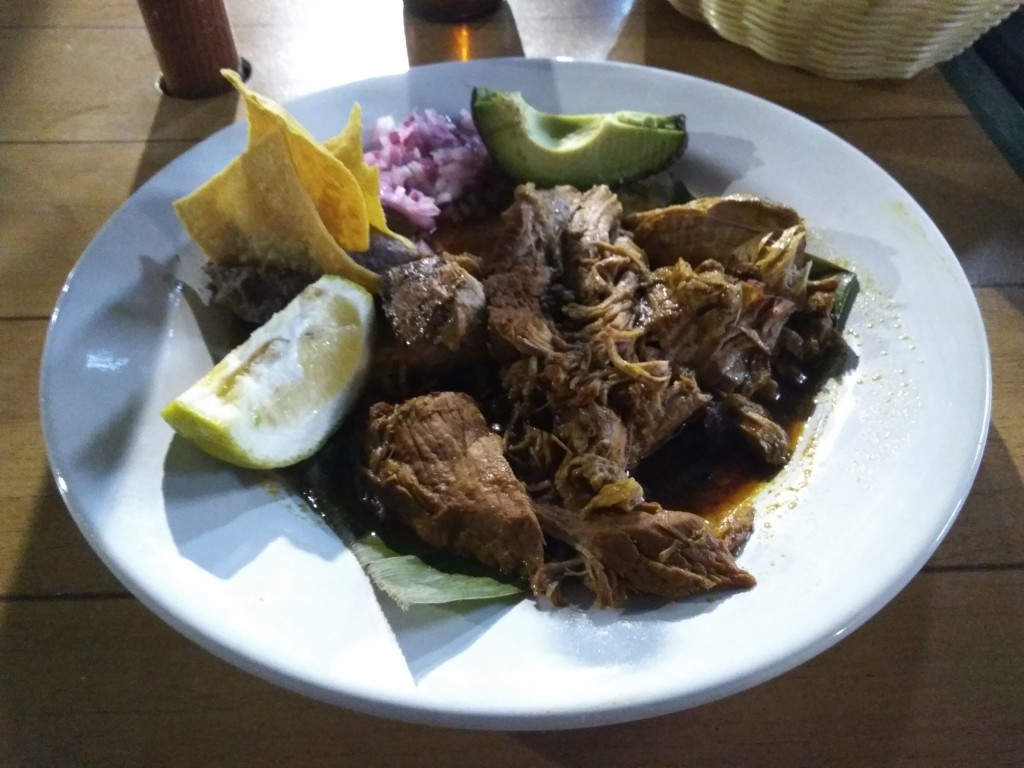 That is our winner. Although cochinita pibil is a roasted pork, it is extremely good. The roasting process is very slow and that is why the meat is so tender. it is almost melting in your mouth. Meat's color is darker than the one of a standard pork. Its texture could be compared to a pulled beef.
The Cochinita Pibil that we ate was served with refried beans - frijoles, red onion, avocado and lemon. It was accompanied by a basket of warm corn tortillas.
2. Ceviche with fish and seafood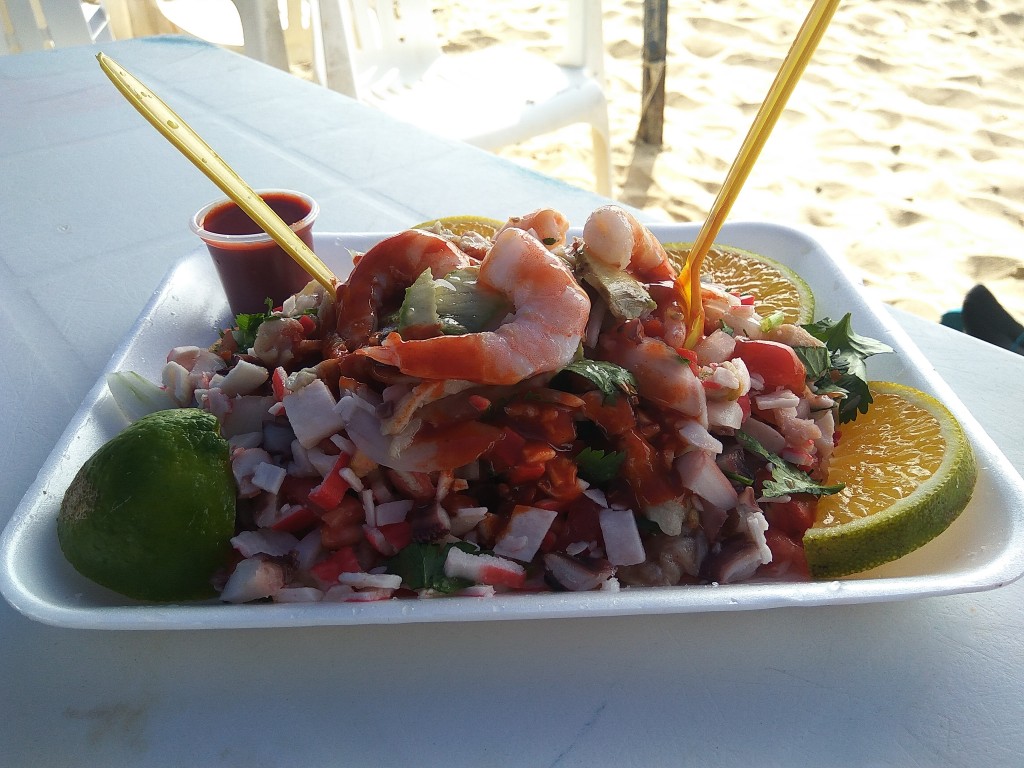 When you are in any place at the coast, you must enjoy local specialties as much as it is possible. All kind of seafood and fish is the best over there. Prawns, squids, octopuses and fish - all fresh! Enjoy then a traditional ceviche with prawns, squids and octopuses. It is generously sprinkled with lime juice and topped with salsas. On top of your ceviche, you will very often get a bigger shrimp, just to make a better impression :) In ceviche, marinated seafood and fish is mixed with onions and tomatoes. Very often it is served with avocado and aromatic coriander. That is great refreshing food.
3. A traditional guacamole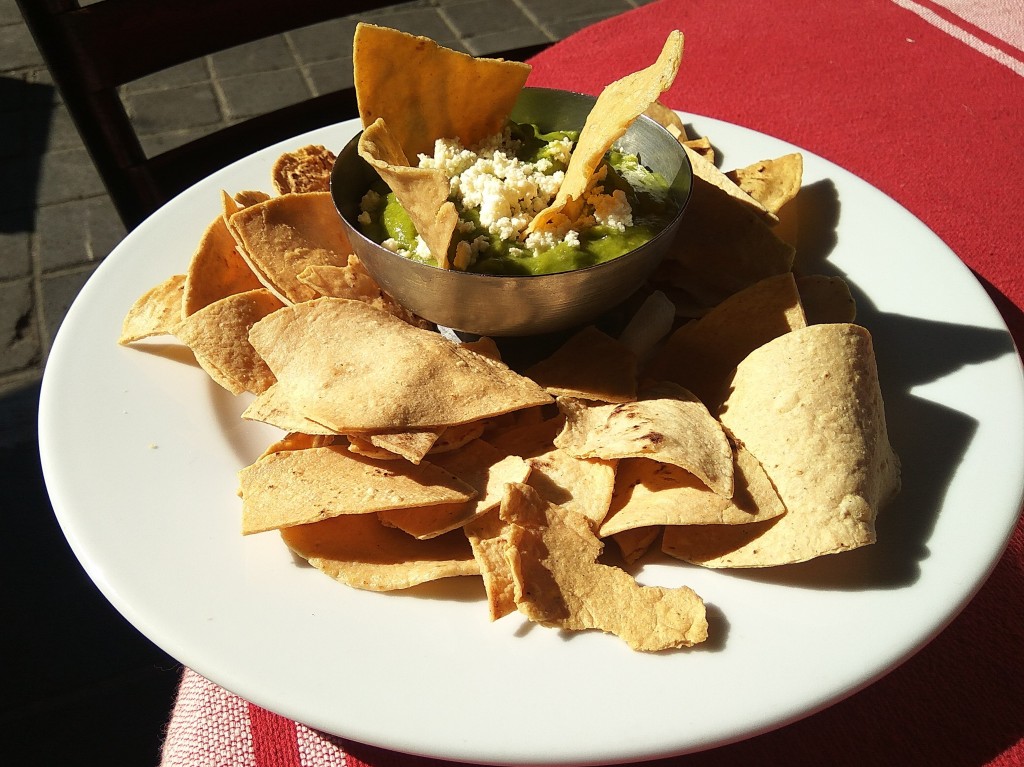 Being in Mexico and trying guacamole would be a shame. It is so popular, so liked and added to almost all dishes. It can also be served alone as a starter or as a light meal. Well, not so light - remember that although avocado is a fruit, it is a heavy one and rich in calories.
If not served as a side dish, guacamole is always served with nachos. Different varieties of guacamole include topping it with a local, fresh cheese. While analyzing Mexican food recipes, you might find different instructions how to make a guacamole, the base is more or less the same - avocado, lime juice, tomatoes, onion, coriander and habanero pepper, then the serving form differs from place to place. It can be served in a bowl, separately on a plate or as a ball-shape heap with nachos, what from my point of view, resembles a hedgehog :D
4. Tacos con carne adobada
What is taco? It is a small, round tortilla with some topping either on it, or in the middle of the folded tortilla. These tacos are extremely good because of the meat. Tacos con carne adobada are tacos with marinated meat. It can be chicken, pork or beef. The meat is tender, slightly spicy and has a different color as it was marinated. Finally, pork tacos were garnished with fried onion.
5. Mexican seafood cocktail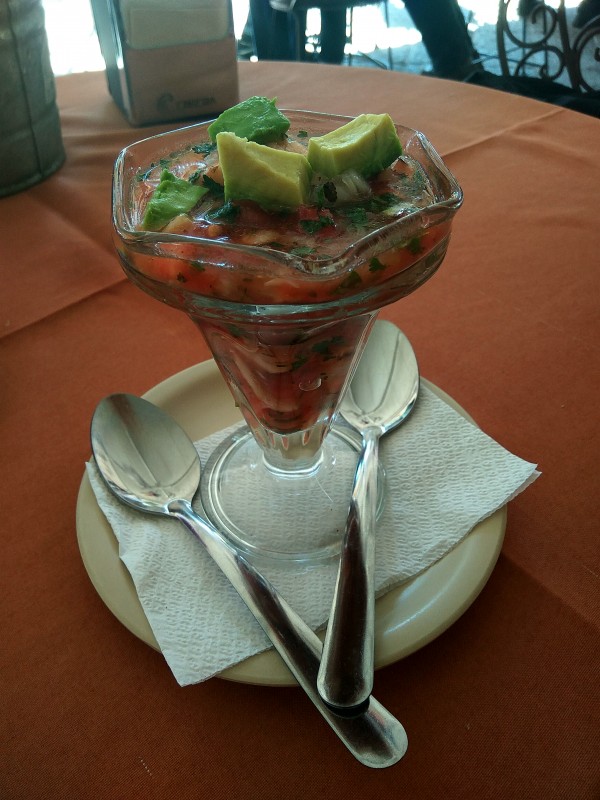 Maybe you have already tried ceviche, but that does not mean you don't have to try a seafood cocktail. Remember, select the one that includes seafood too - not only fish. The difference between the seafood cocktail and ceviche is mainly in the form of serving it and in the amount of the sauce. The seafood cocktail is plunged into a delicious sauce made of lime juice and red salsa. In the cocktail, you may expect to find shrimps, octopus, squids, tomatoes, onion, coriander and cubes of avocado.
6. Elote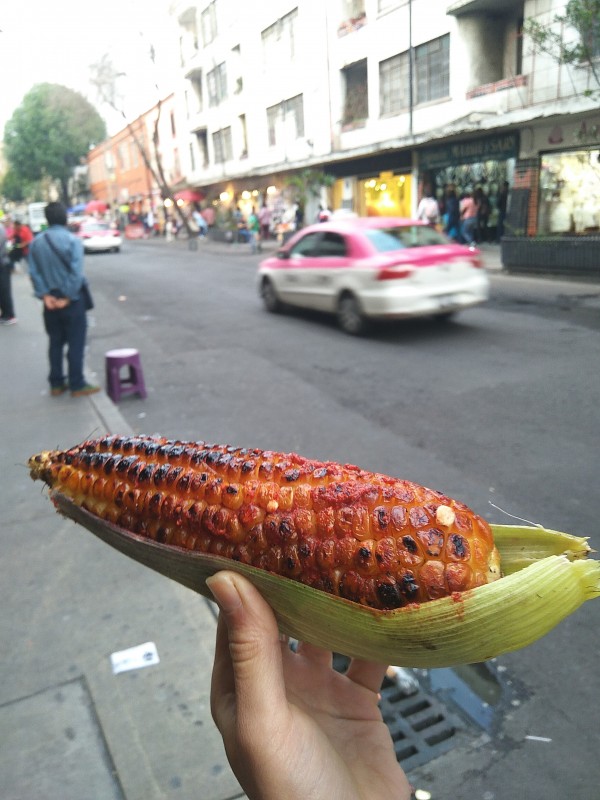 What is elote? Generally speaking it is a corn. Yes, just corn. But it is much more than just a corn. Apart from that, that it is easy to be grabbed from a street stall, elote is unique in its taste. It can be a cooked corn on the cob or a grilled one. Especially, don't miss the grilled one! However, doesn't matter whether grilled or cooked, it is at the beginning sprinkled with lime juice, then it can be served with mayonnaise, cheese, chili and salt or with only some of these ingredients depending on your preferences.
7. Chilaquiles rojos con pollo, crema y queso fresco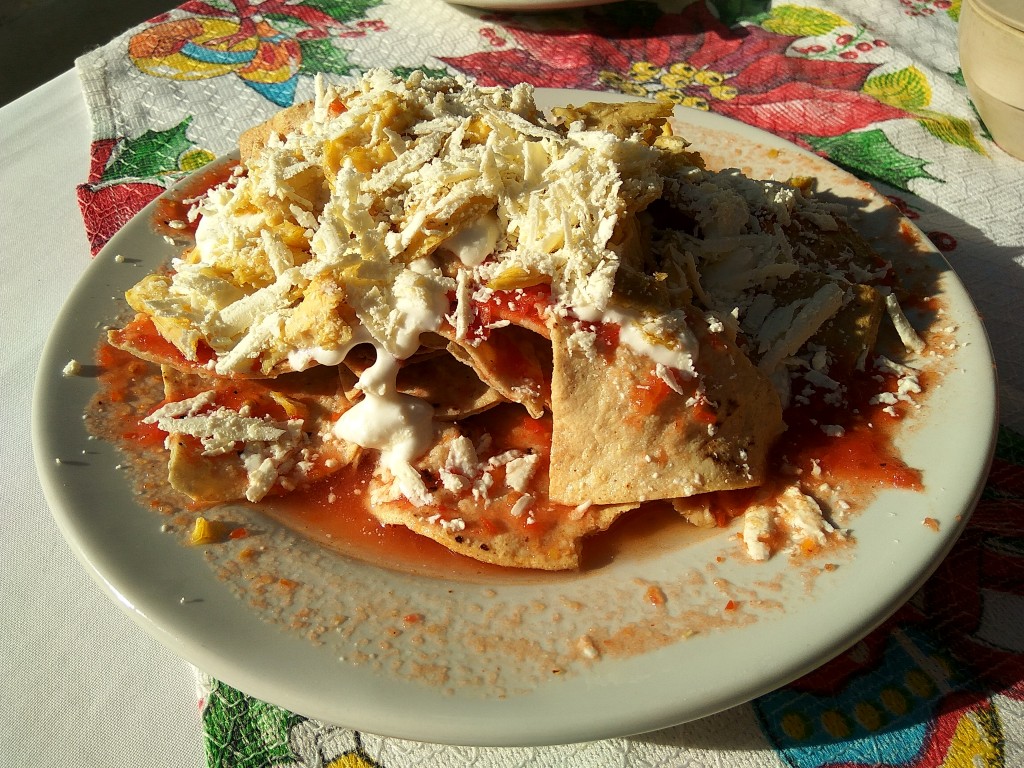 Chilaquiles are fried triangles of tortillas plunged into red or green salsa and served either alone or with pulled chicken, cream and fresh cheese. Sometimes fried tortillas are replaced with nachos; however, it is still worth trying.
8. Tostadas with chicken and onion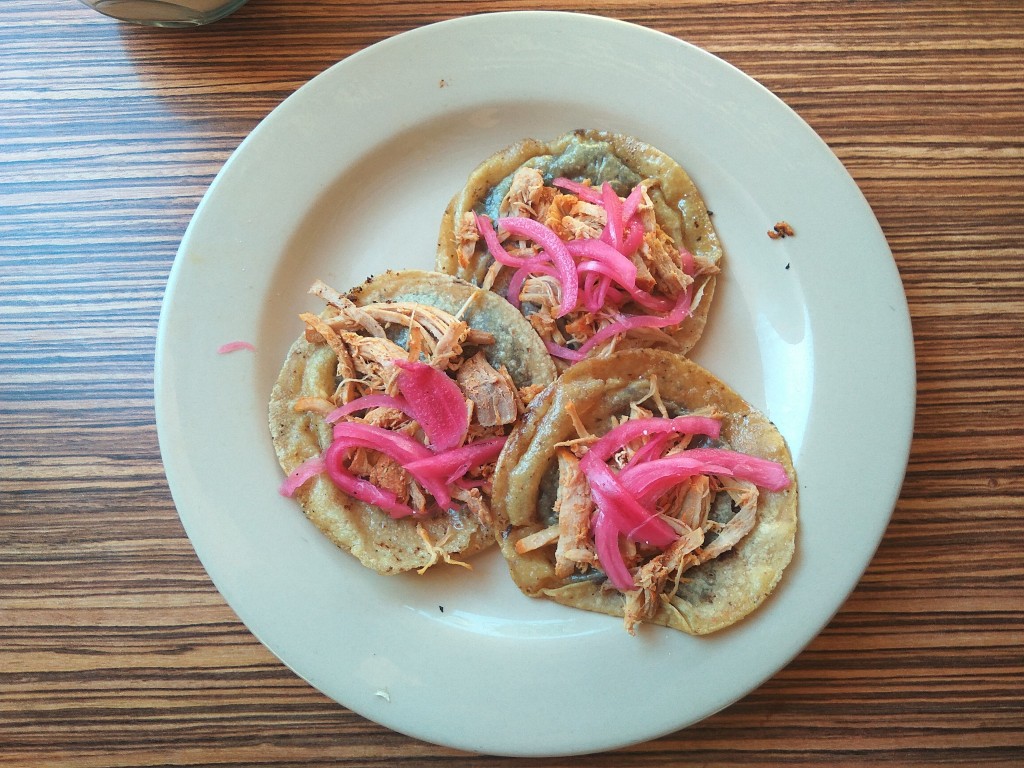 What is exactly a traditional tostada? Tostadas are fried tortillas with some kind of a topping. Tostada is also a name of a whole authentic dish. Tostadas are relatively small - their diameter slightly exceeds 10 cm. On top of them, fried pork, chicken or beef is placed. Then they are usually garnished with fresh onion.
9. Burrito con chorizo
You think you know everything about burrito? Know how should it taste? How should it look like? You are probably wrong, unless you had a burrito in Mexico. A traditional burrito is stuffed with meat and frijoles - fried beans. In further variations, the filling may include corn and other vegetables, onion, peppers and grated cheese. Then, the wrapped tortilla is slightly grilled or fried. It is crispy with a melting stuffing interchanging with some fresh and crunchy vegetables.
10. Papa al horno relleno con queso, carne y crema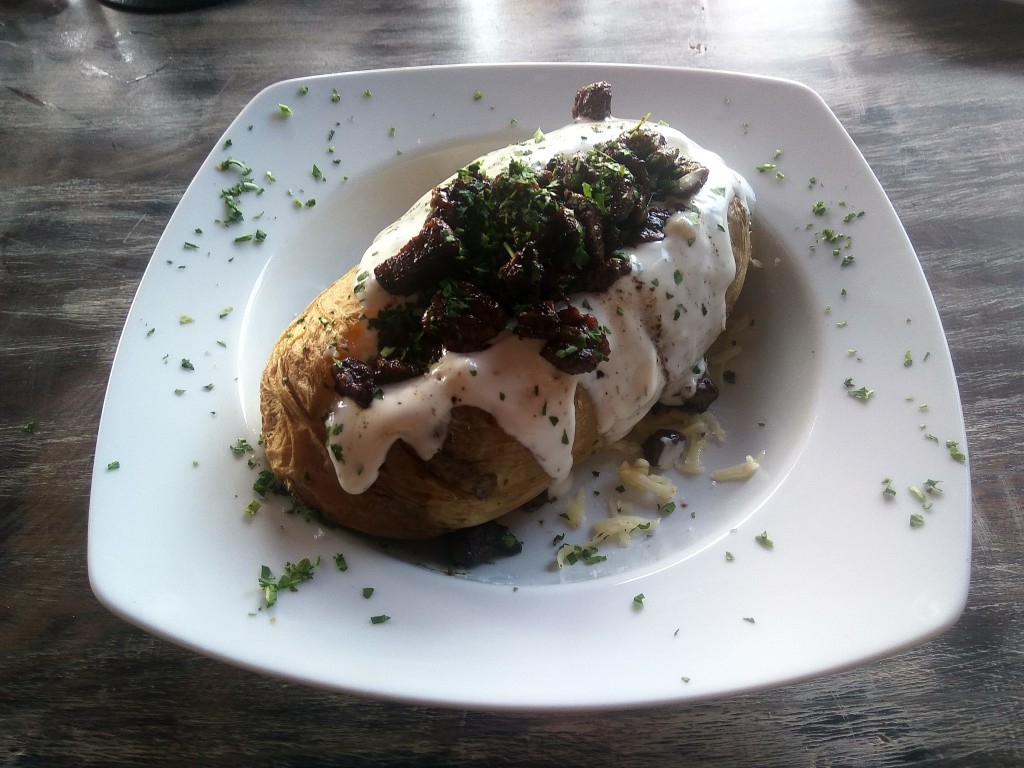 Nothing more to be said, just translate it! Papa al horno relleno con queso, carne y crema is a baked potato stuffed with meat, cheese and cream. But that is not a standard potato just put on a grill or baked in the oven! No, nothing like that! It is partially halved, stuffed and wrapped in an aluminum foil. Then grill till it is tender. Inside you can find meat, collection of one or two cheeses, onion and cream - mouthwatering, isn't it?
11. Traditional Mexican dumplings - empanadas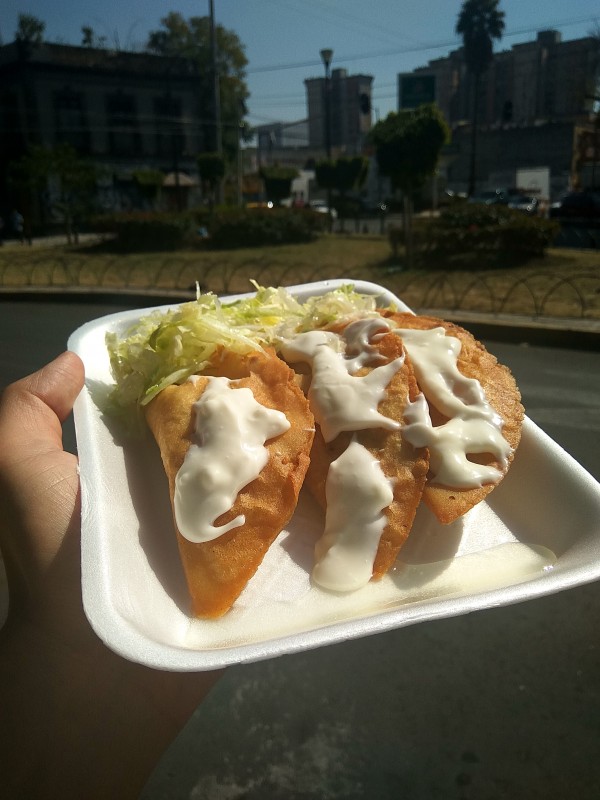 Deep fried dumplings can be found almost everywhere. Both local people and tourists just love them. Empanadas con queso, empanadas con carne, empanadas con tocino, empanadas con champignons, ... Whichever filling you would like, you will probably get. But remember, that are savory dumplings and not sweet! Empanadas are served with sour cream and sometimes topped with grounded fresh cheese. Be careful! Some of them might be spicy! If not hot enough, you can always put on them some additional salsas :)
12. Huchepos con carne de puerco, salsa, crema y queso
That traditional meal that is eaten mainly in the morning as a breakfast. Huchepos are sweet corn tamales topped with cream and fresh cheese. In an additional bowl you will either get a hot salsa or a hot sauce with meat. Huchepos are a good combination of different tastes and textures - sweet and spicy, melting in your mouth tamales versus tender meat. That is something difficult to describe, you must try it!
13. Huevos revueltos a la Mexicana con platanos fritos y frijoles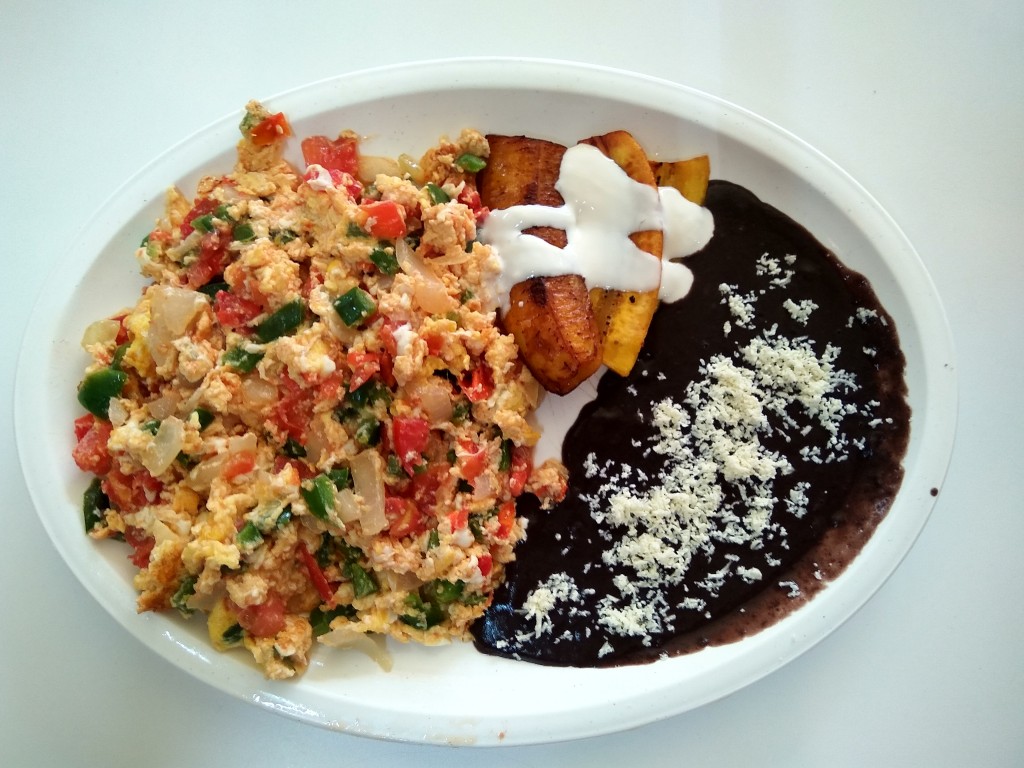 That is perfect for a warm breakfast. Both huevos rancheros and huevos revueltos are commonly existing in the desayuno menu. Traditional Mexican style scrambled eggs with tomatoes, bell pepper and onion are served with deep fried bananas topped with cream and accompanied by frijoles - fried black beans. Colorful, satiating and so authentic!
14. A cheese quesadilla with chicken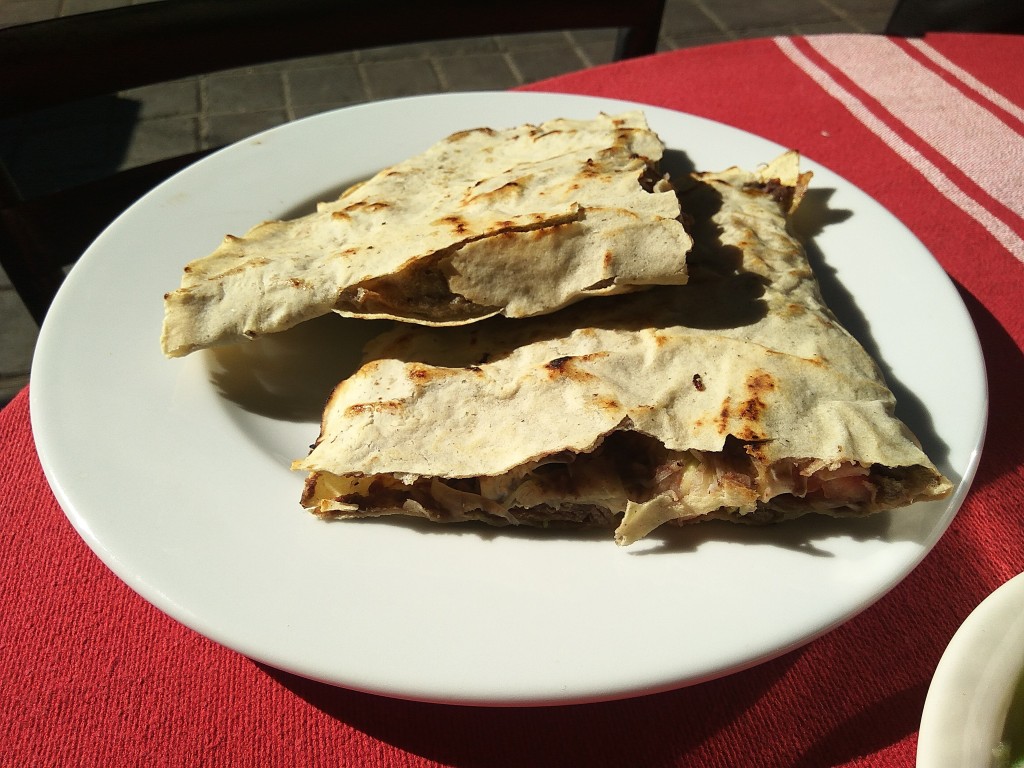 That meal you probably know very well. Regular tortillas are originally stuffed with cheese and optionally with meat and vegetables. Then, stuffed tortillas, right now quesadillas ;) are folded and cooked on a griddle. With every bite you will be more and more happy. Melted cheese and crispy tortilla make a good pair.
15. Bistec a la Mexicana with french fries, Mexican style rice and salad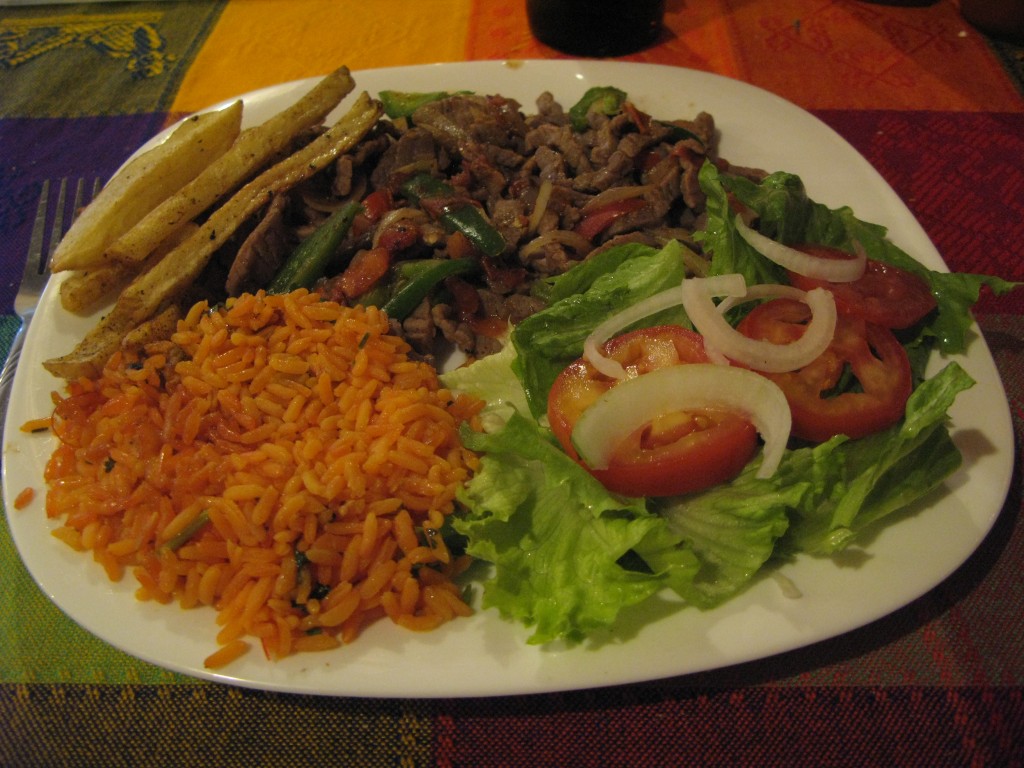 This way of serving beef is so good! So little ingredients but the result is perfect. Tender, aromatic and juicy. Just fried onions combined with beef stripes and mixed with a tomato sauce can create an awesome dish. Bistec a la Mexicana can be served with rice and salad, as we had it, or with frijoles topped with grated fresh cheese.
16. Chicken Malecon
If you are in Mazatlán, you must try Chicken Malecon, literally - Chicken Pier :D
Chicken Malecon is a chicken breast filled with two cheeses and spinach. Then it is wrapped in bacon and nested on a layer of a mushroom sauce. This authentic Chicken Malecon is served with rice and vegetables. To enjoy it more, order at the bar Margarita with an authentic tequila. And by the way, the view on the sea is incredible!
17. Bistec al gusto acompanado con frijoles, guacamole y ensalada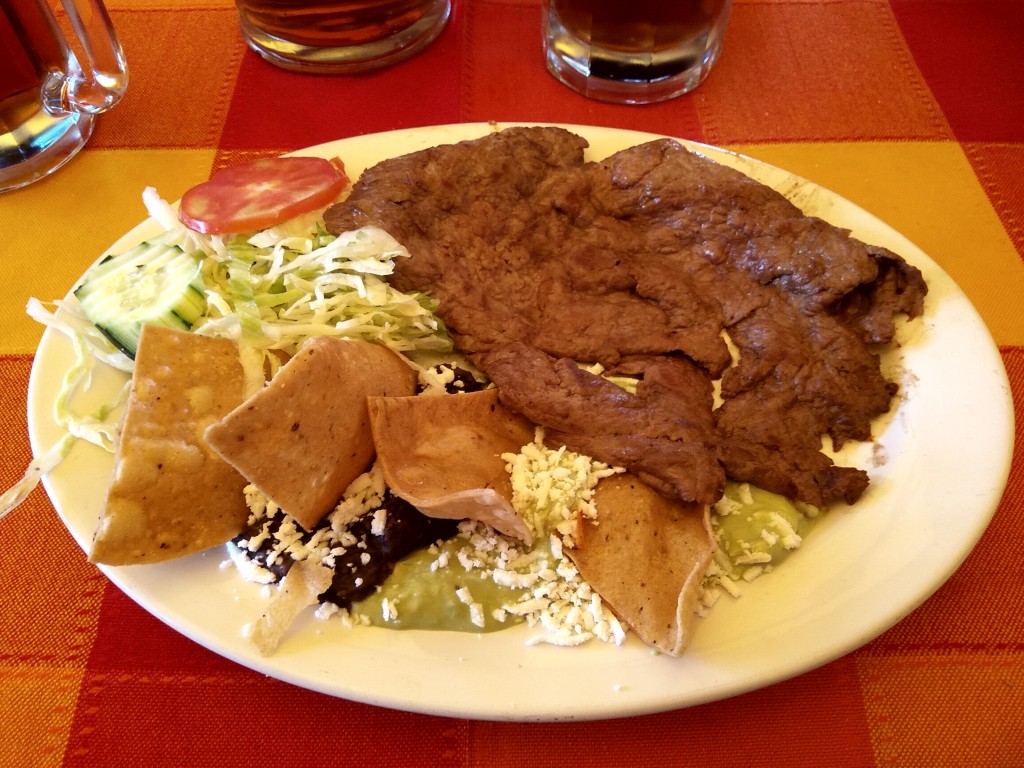 Bistec al gusto is a general naming for beef dishes served the way you like. Just order the one you love. We selected fried beef served with frijoles, guacamole, salad and nachos.
18. Enchiladas with chicken and red salsa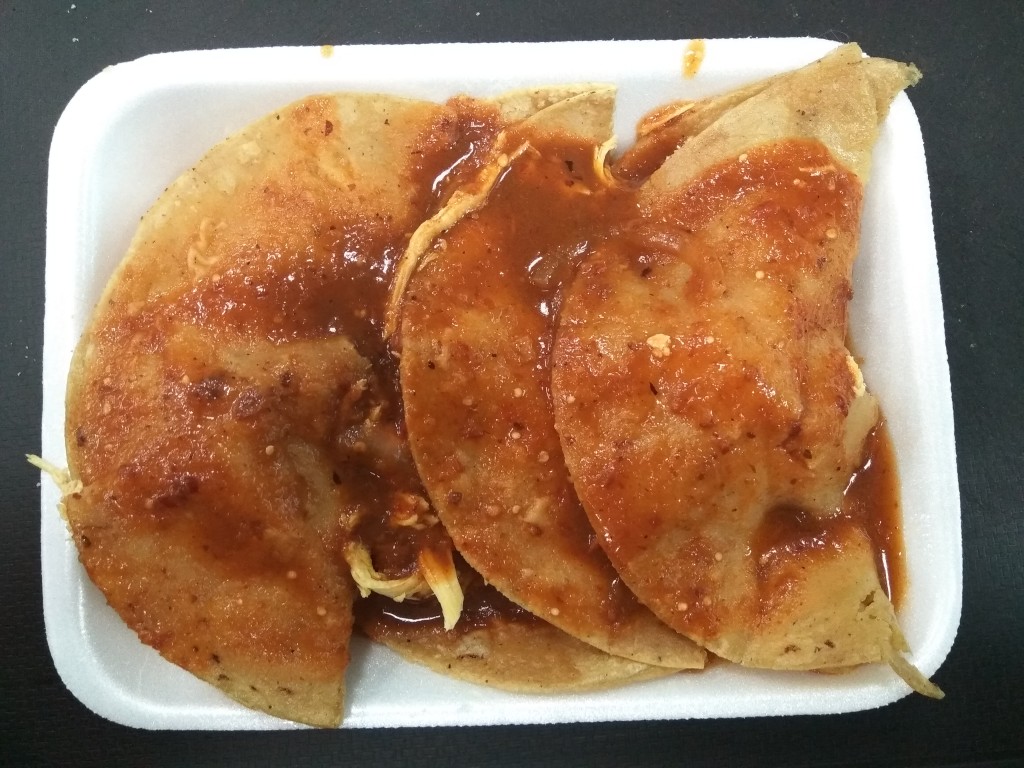 Empanadas we ate for the first time in Mexico City. It is a traditional meal that is widely sold both as a fast food and in restaurants. Enchiladas are stuffed with meat and covered with salsa verde or salsa roja - red or green salsa. Sometimes, enchiladas are topped with cream and cheese. Choose mainly between pork, chicken, potatoes or cheese. Add to that your favorite salsa and optionally cream.
19. Pechuga de pollo con arroz, guacamole y ensalada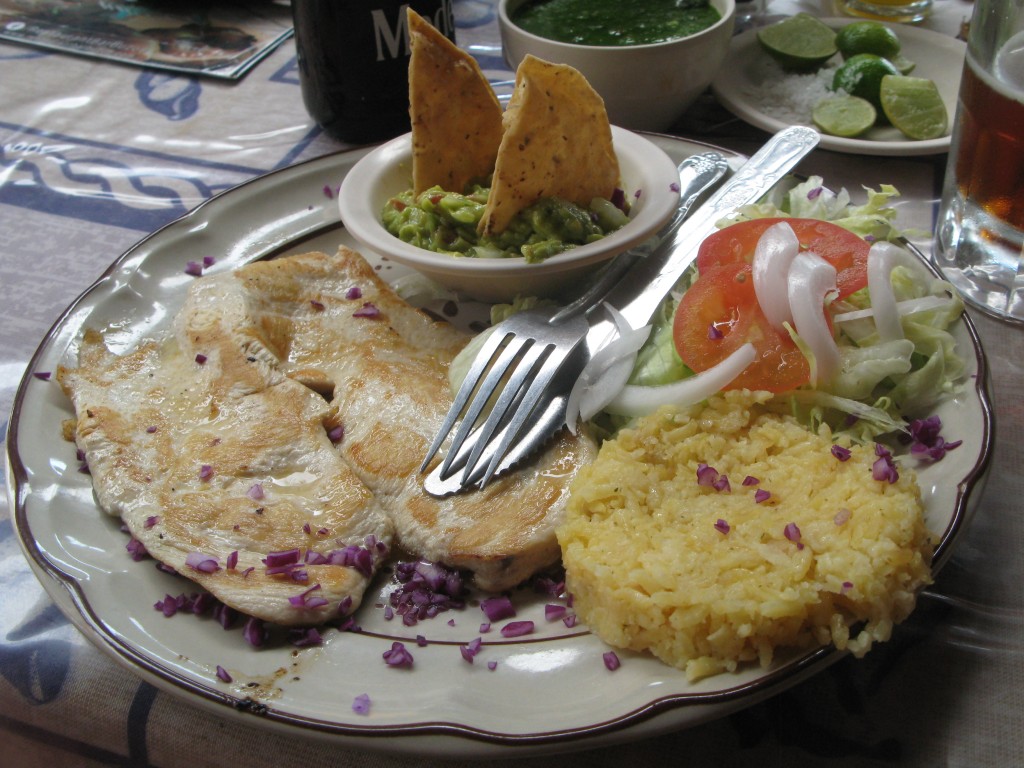 Although pechuga de pollo, like pollo Milanese, is not a native Mexican meal, it is very popular and shouldn't be missed. Fried chicken breast is usually served with rice, guacamole and salad. That is a good choice for conservative travelers ;)
Hope this list of top Mexican dishes helped you and increased your appetite. Enjoy your meal, and see you in Mexico!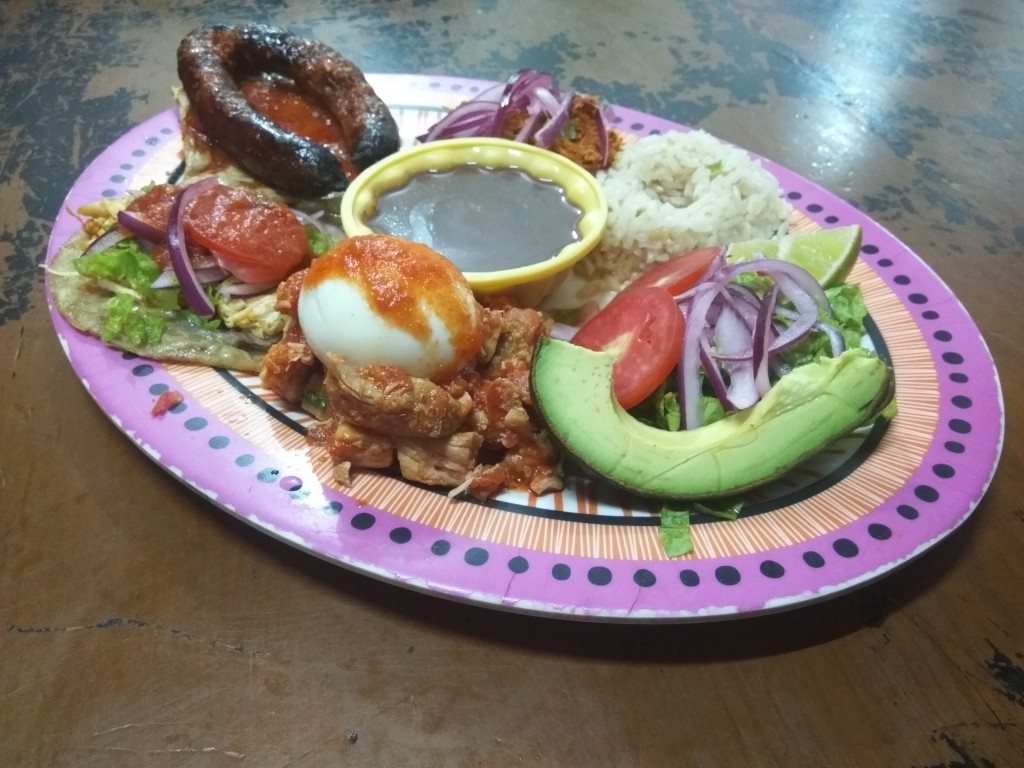 BTW, if you don't have time to try all these meals, just order Plato winik with cochinita, lomitos, poc-chuc, longaniza asada, panuchos; served with a boiled egg, avocado, salad, frijoles and served with a spicy sauce. A meat plate to be shared with friends or just order it for a family dinner!
Check also our review of Mexican street foods.
See related