Have you ever heard about Desayuno Mexicano – literally a Mexican breakfast? If you are in Mexico, you will see these two words almost everywhere. Desayunos are served in nearly every bar, every restaurant, in hotels, guesthouses and hostels. These breakfasts are hearty, warm and include all you might need – bread or corn tortillas, eggs, coffee and usually a fresh juice. That set is the most common one, but the breakfast menu differs from place to place.
Restaurants serving breakfasts usually open at about 8 a.m. or 9 a.m. the morning menu includes scrambled eggs, Rancher's eggs, omelets and local specialties. If you decide to have your Mexican desayuno in a restaurant close to the main square or in a more pleasant location, bear in mind the fact that you might wait in a queue. Yes, that is true. As local people love spending their time together in cafeterias and restaurants, they start doing that early in the morning. With families, friends or just in couples. Happy they met each other, glad they can spend that time together and share thoughts and plans.
So, let's have a breakfast in a restaurant, and let's enjoy the local atmosphere. We were always selecting tables in the restaurant's garden, if it was possible, and we recommend you do the same. Thanks to that you will be able to observe the morning life – people going to work, selling snacks, polishing shoes or singing.
Best Mexican breakfasts:
Desayuno Mexicano - a traditional Mexican breakfast with scrambled eggs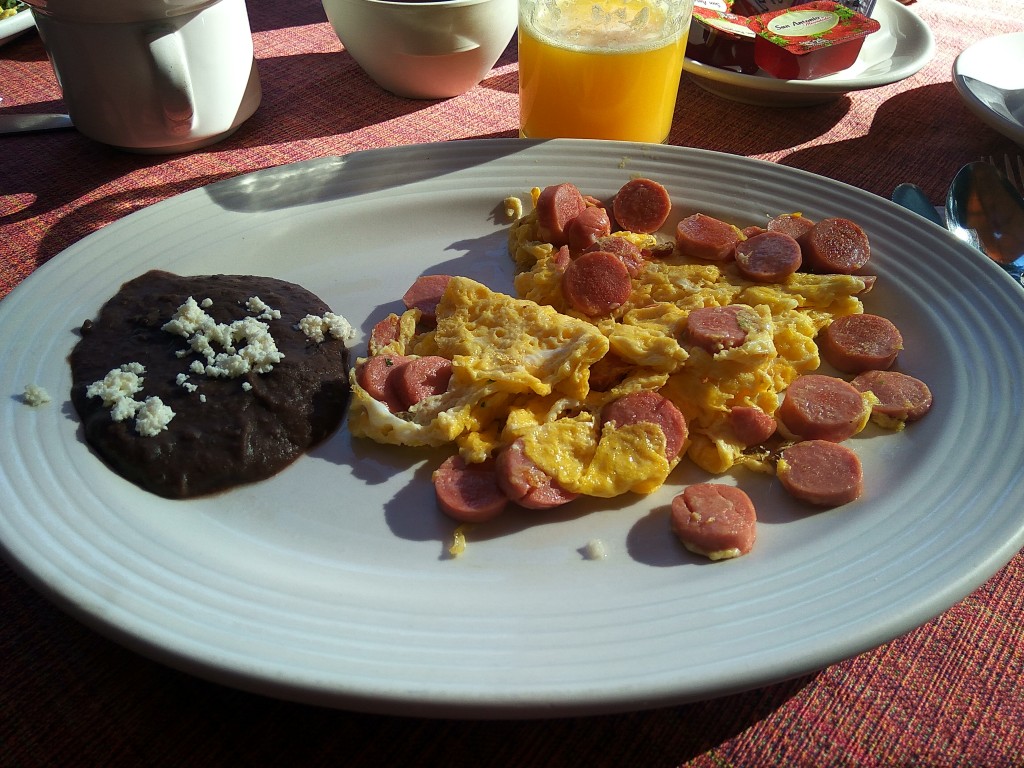 The base of a typical Mexican breakfast is an egg. Scrambled eggs, Rancher's eggs (huevos rancheros) and omelets. To that add some fresh bread, butter and jam. Eggs, in any form, are served with refried beans and some nachos – not always. As a drink, you will surely get coffee or sometimes tea or infusion. At the beginning you will be served a fresh juice – jugo. In most restaurants jugo de naranja is included, in some, you might be allowed to cheese from other juices too. Jugo verde, jugo de pina or jugo de zanahoria are other common juices. For your scrambled eggs you can usually choose ham (jamon), saussages (salchicha), spinach (espinacas), bacon (tocino) or mushrooms (champiñones).
The coffee you get, is a filtered coffee, sometimes served with milk, but usually have no option – black coffee is a standard. More about coffees in Mexico you can read in the post 'The best Mexican coffee'.
Huevos a la Mexicana (revueltos)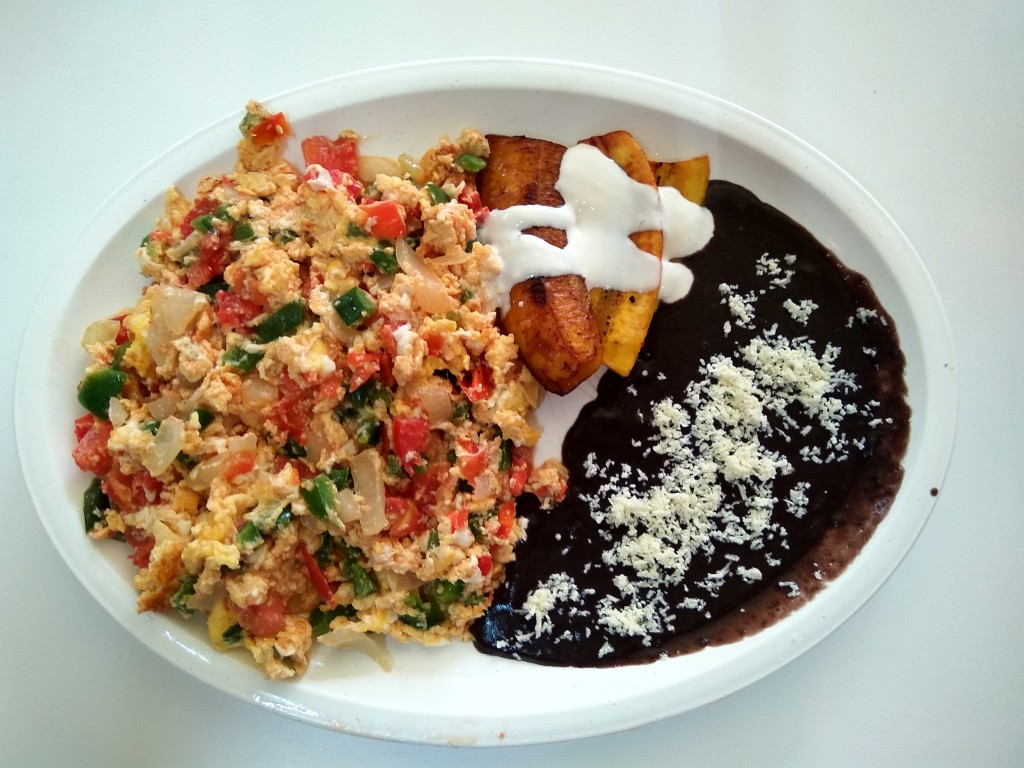 Scrambled eggs served in the most traditional way. Onions, tomatoes, habanero peppers are mixed with fried eggs and served with frijoles – fried black beans. Sometimes, you might also get delicious deep fried bananas – platanos fritos, that I was always eating at the end, let's say for a dessert 😊
Huevos revueltos con jamon and huevos revueltos con tocino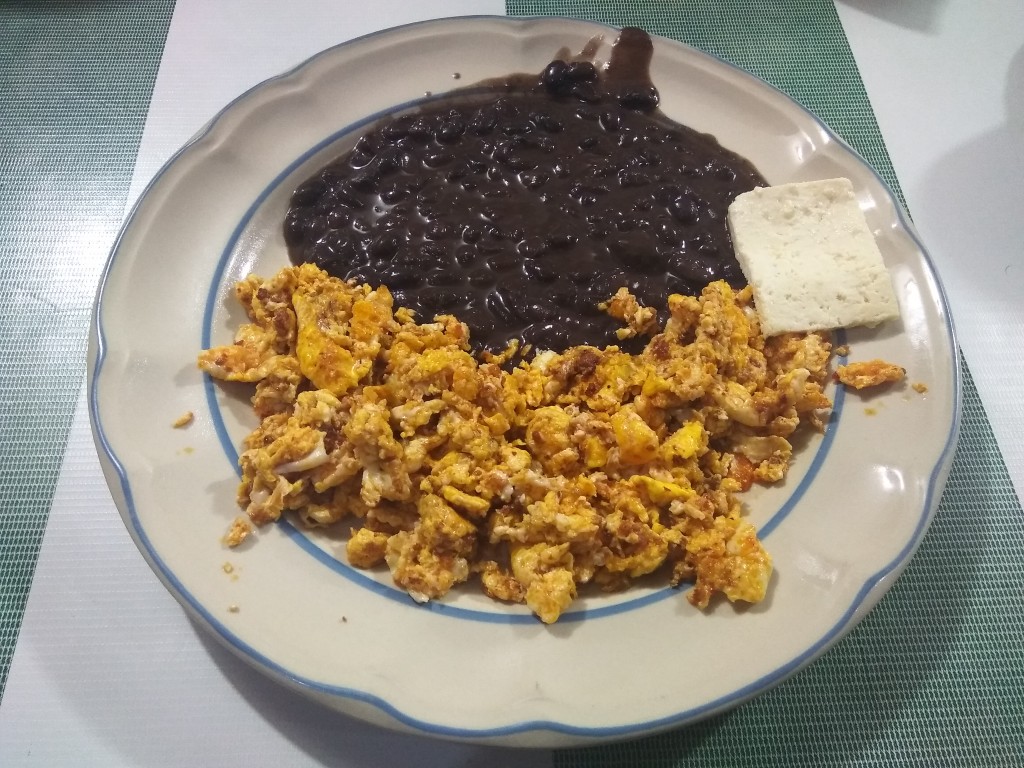 Scrambled eggs with ham or bacon. These two variations are the most popular among tourists. However, they are still served with frijoles and sometimes with cheese. They might be accompanied either by bread or by warm tortillas.
Huevos divorciados con salsa verde, salsa roja y frijoles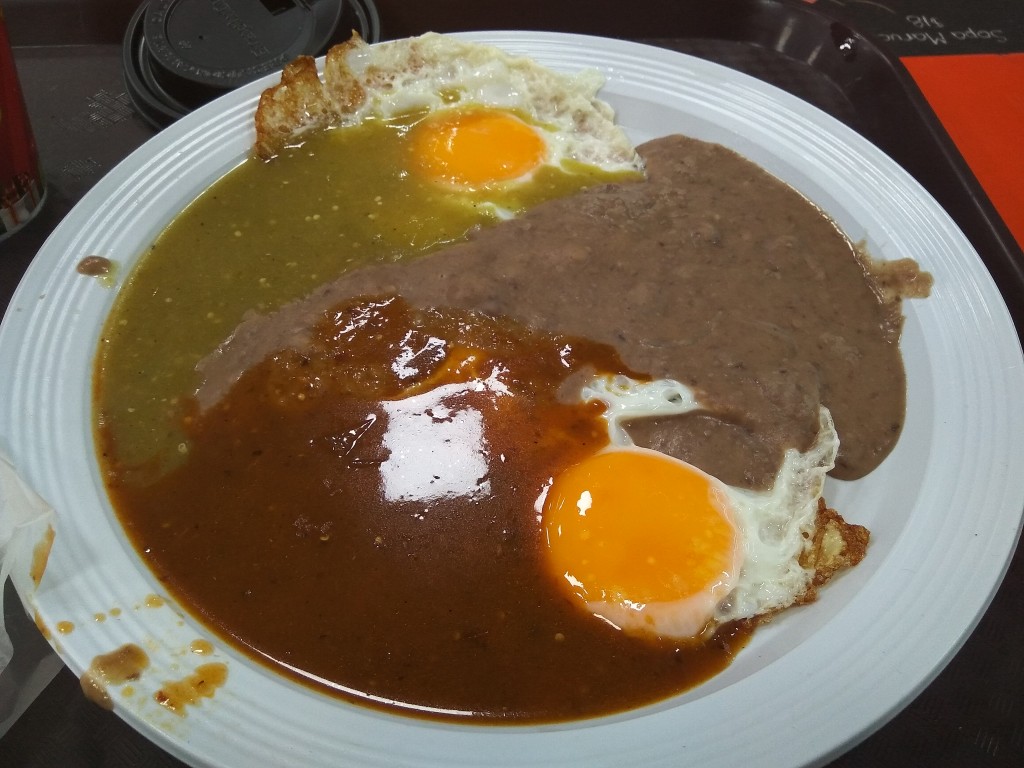 If you had to translate it, it says – divorced eggs 😊 Funny naming, isn't it? But the name comes from the way these two Rancher's eggs are served. Traditionally, the dish should consist of two small tortillas topped with an egg. Each egg should be in another salsa – red or green salsa. Between these eggs, should be fried beans with some nachos.
A traditional Mexican breakfast with omelet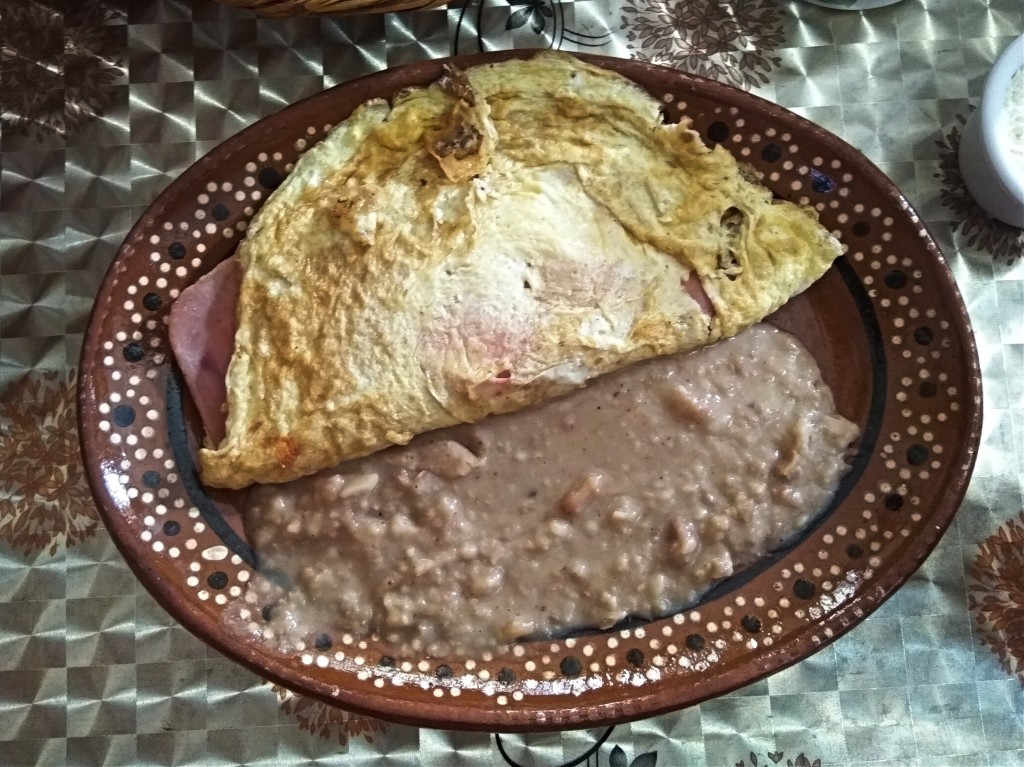 If you are looking for any change in your menu, try local omelets. Made from two eggs, folded and stuffed with meat, ham, cheese or mushrooms. They will be topped with salsa roja and usually sprinkled with some additional cheese.
Regional Mexican specialties
If only you have a chance – try local breakfast sets. They will very often include local cheeses, sauces or will be served with meat prepared in a unique style. We tried for example Huevos revueltos a la Zacatecas - scrambled eggs with meat. These eggs were served with salsa roja and cheese. Another worth trying breakfast meal was 'Huevos de Valla with frijoles' - omelet like eggs fried with a slice of a local cheese from San Miguel de Allende. Of course, it was also accompanied by fried beans and topped with a tomato sauce.
Huchepos con carne de puerco, salsa, crema y queso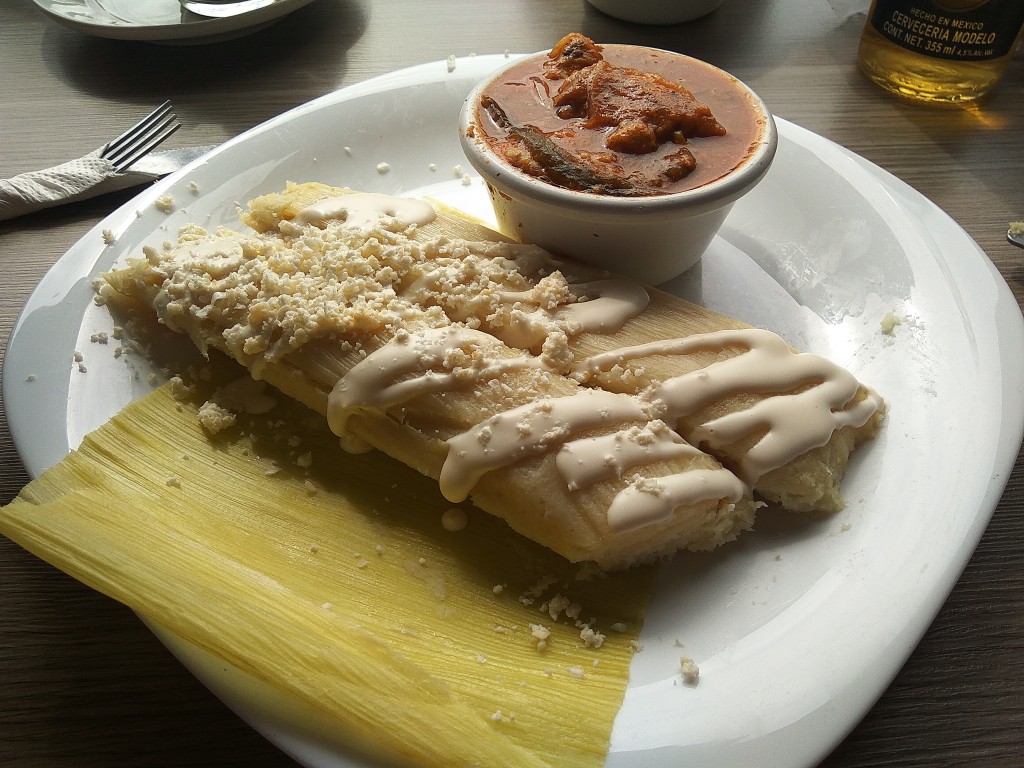 What's that? Huchepos are fresh-corn tamales that are mostly popular in the Michoacán state. That is a warming breakfast that will keep you full for a long time. Huchepos are made of fresh corn kernels, milk, sugar, butter and milk. All these ingredients are mixed and packed into corn husks, in which they are steamed.
Enchiladas
Doesn't matter in which part of Mexico you are, you will get enchiladas. The most popular enchiladas are with pork, beef, chicken or potatoes. Usually served with red or green salsa are widely available. You will get them not only in restaurants but be able to grab them from a street stall. A good choice for a take-away food if you are in a rush.
Tostadas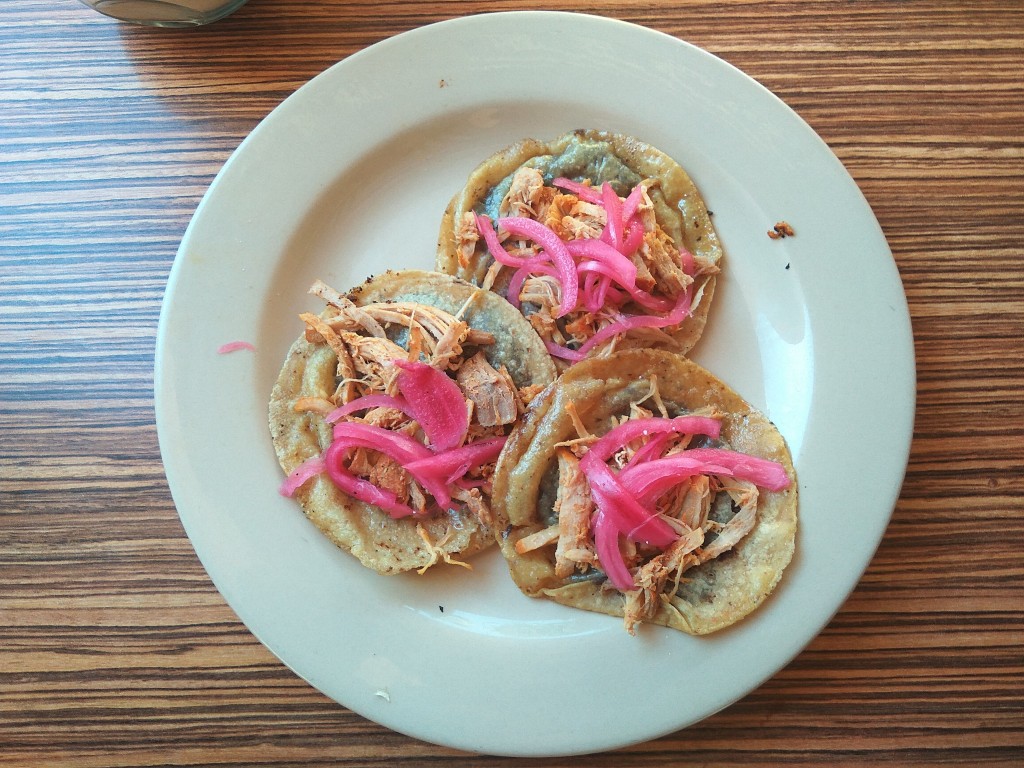 So popular and liked are a lighter option for a breakfast. Small, usually three, toasted or fried tortillas - tostadas are topped with chicken, shrimps, pork or beef and sprinkled with onion.
Mexican breakfasts in guesthouses and hostels
If you are tired with Mexican breakfasts, start your day with a meal in your hostel. That kind of breakfasts is a mix of a western-style breakfast with a Mexican desayuno. It is a good option for all these, that don't like culinary experiments. Toasted bread with jam and with some slices of any fresh fruit is the most popular breakfast set. From time to time, you will get pancakes or regular scrambled eggs. However, in less touristic hostels you might be served, for example, a toasted bread with fried beans and topped with a slice of cheese.
Bon appetit!
See related