Japanese restaurants are all over the world. Sushi and sashimi are well known and popular. You just have it for a lunch, for a dinner with friends or go to the fancier sushi restaurant for a romantic evening :). You know it very well, and probably like it even more. But how does it look like in Japan? Where to buy it? Where to eat? When to eat? And what is in it? Fish? Vegetables? Something else?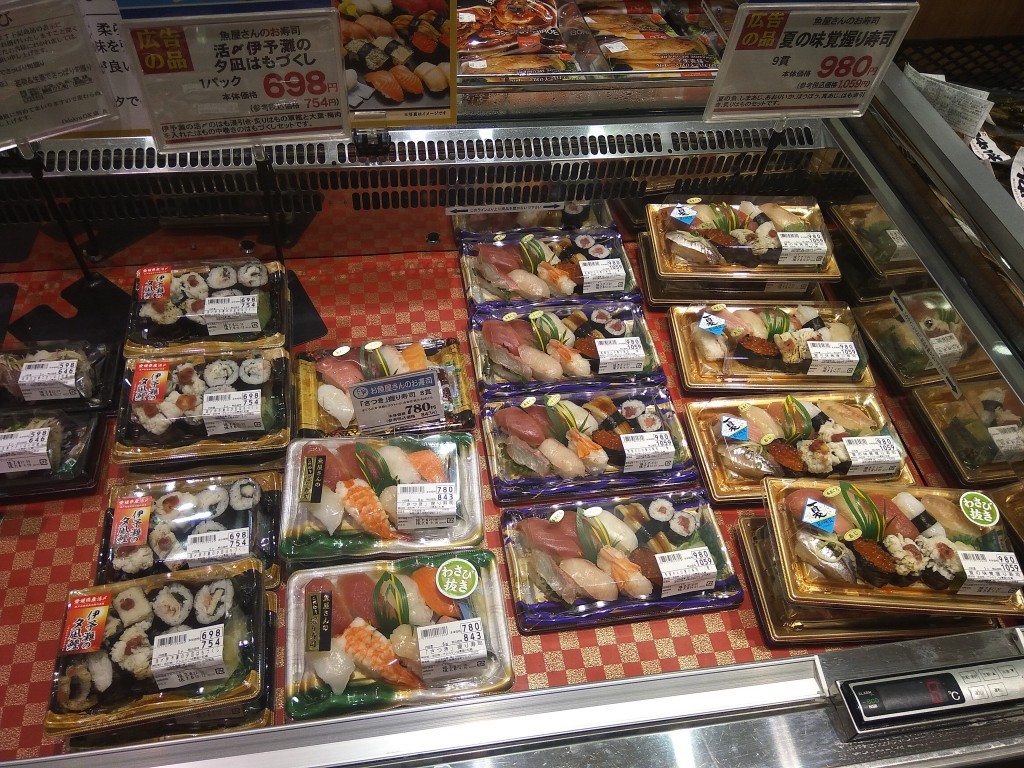 Ypu can buy sushi sets almost everywhere. Doesn't matter whether you are in a small town, in a traditional village or in a big city, sushi is there. In a local shop, convenience store or in a big supermarket. Sets of three, four, six, ten, twelve and even more. Maki, temaki, nigiri, uramaki, sashimi, … whatever you want. Maki and nigiri are the most popular. You can get either a maki set or a nigiri set or a combination of both. What is usually missing is soy sauce, wasabi and ginger. Actually, that's not a problem as it is so good that you don't need anything else. Even the rice is better than anywhere else. Soft, aromatic, perfect in its texture. And it is not expensive. Really, you can get a big set of sushi that's tasty, fresh and cheaper than in any other country. So how does it look like? What's in it? Fish only?
It's colorful. It's a beautiful composition of different colors and tastes. Even the cheapest set is nicely served, sometimes decorated with an artificial grass, sometimes just on a stylish tray.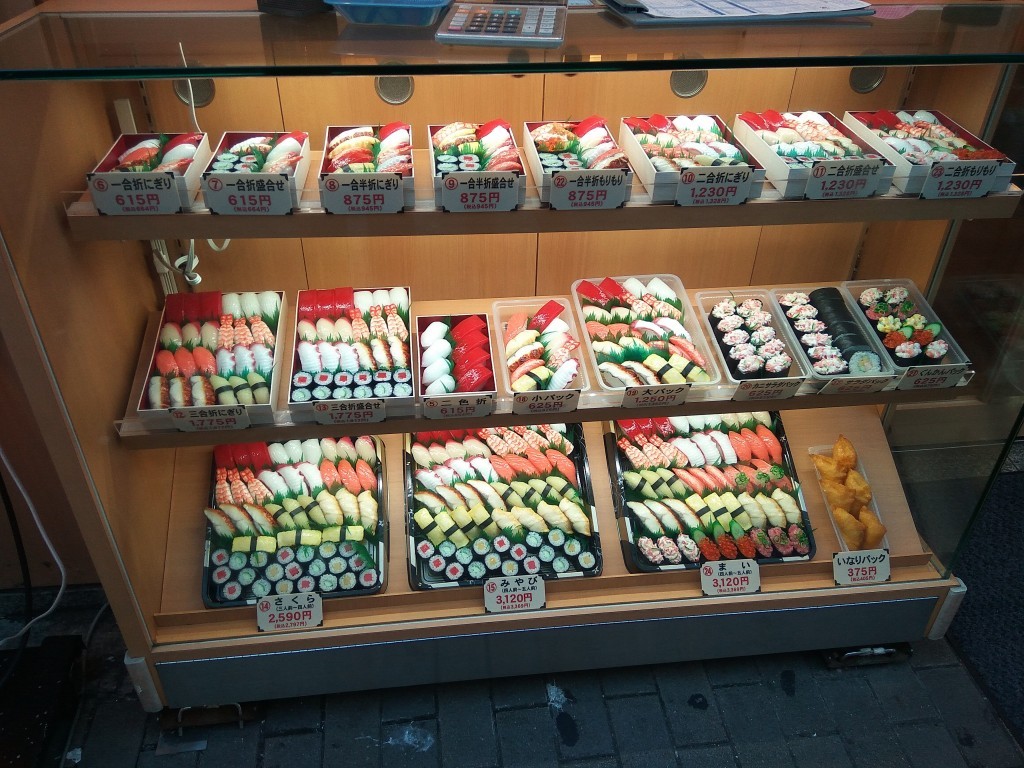 If you select a set of different sushi or sashimi, you will surely get each piece different. Different topping or stuffing, and different taste and flavor. Fish raw, smoked, minced, in flakes, marinated, in a paste, dried or salted. Seafood in tempura, fresh, chopped, grilled. Fresh or marinated vegetables, egg/sweet omelettes, roe, crab fingers, natto, umeboshi, fish cakes...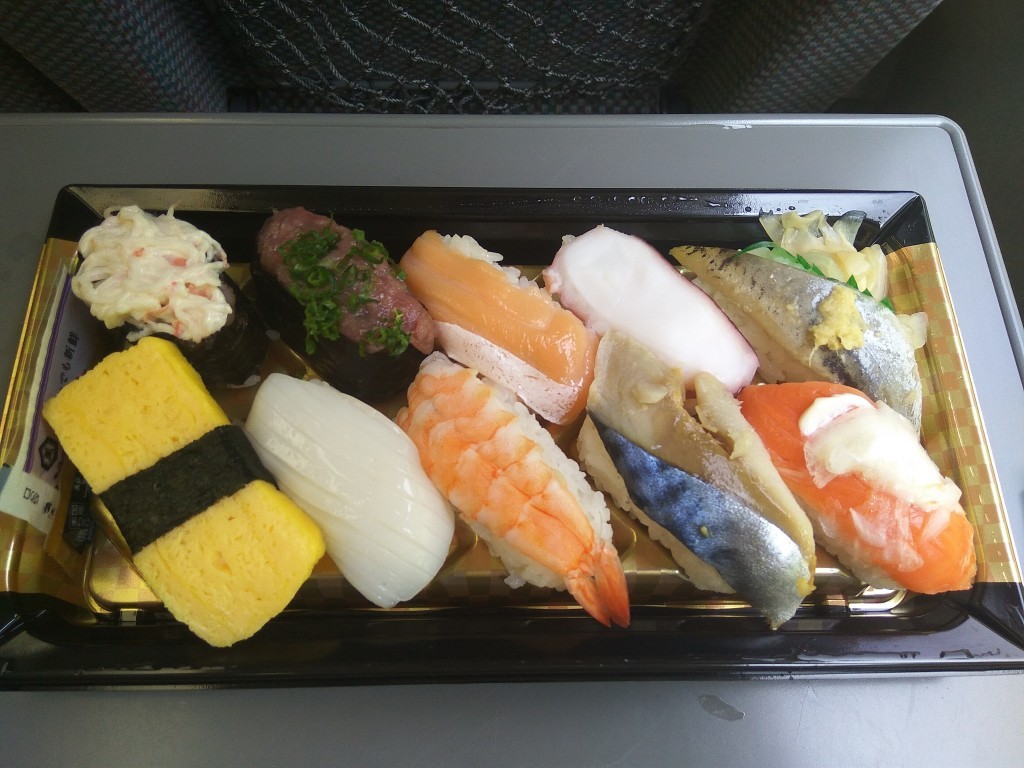 If you want a fish, you will probably get tuna, salmon, mackerel, eel, halibut or sea bass. If you prefer some kind of a seafood, then select from clams, scallops, prawns, octopus, squids or shrimps.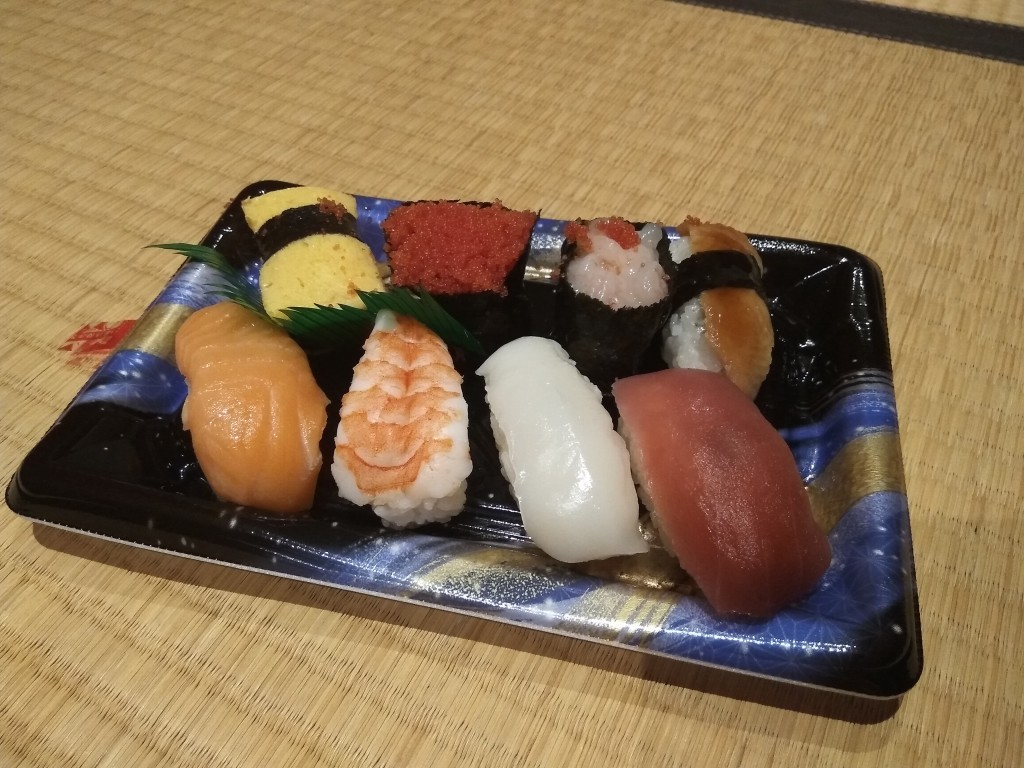 Depending on which fish you select, it comes served in a different way
Tuna – raw; in one piece or a single slice, minced or with mayonnaise in maki
Eel – boiled and roasted; a single slice
Mackerel – dried, salted, grilled, smoked; a single slice
Salmon – salted, grilled, unsalted; in one piece or a single slice
Bonito – cooked and dried, grilled, raw, smoked; flakes
Roe – raw; whole or in a paste
Shrimps – raw, simmered, stir-fried, deep-fried in tempura; chopped, whole
Squids – deep-fried in tempura, raw; stripes, in one piece
Octopus – boiled; slice
Apart from fish and seafood you will also get nigiri with omelette/egg (tamago), that's sweeter than a regular one, firm but soft when you eat it. Then you also have grated crab fingers usually mixed with mayo or pieces of crab fingers in maki. Cod or salmon roe in nigiri is also very popular.
Other variations of rolls include these with umeboshi, natto – fermented soybeans, cucumber or maki both with cucumber and omelette/egg.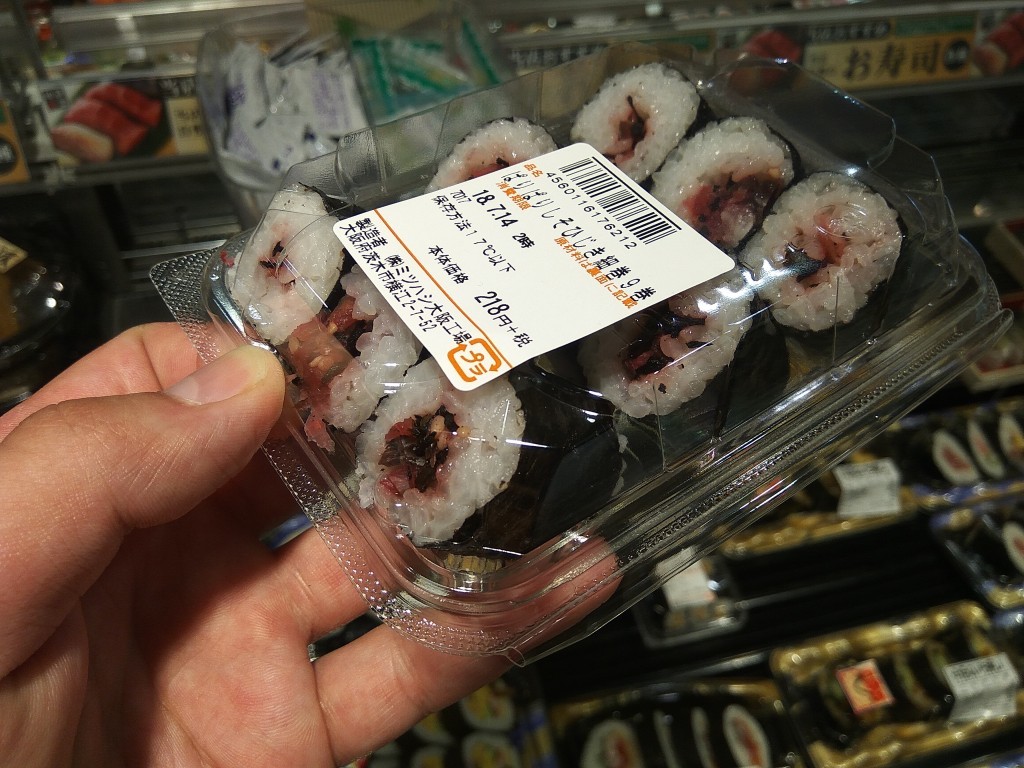 If it's possible, select only these nigiri or maki, where the whole fish is included. Remember, usually in all minced, grated or chopped variations, the fish or seafood you get, is the worst one. So, if you have such an option, select only these where the whole slice of meat is in.
If you opt for a fish, keep in mind that the fish you get, is usually a fatty one. That makes the meal a satiating one, so order step by step. Not all at once, even though you would like to try them all immediately. I know, it's not so easy, but, try to do so.
At the beginning, when we got our set with no soy sauce, no ginger and no wasabi, we were disappointed. That is something, that should always be given to any sushi! Well, that was what we though before coming to Japan. However, in Japan, you really can go without it. Sushi is so good, that adding anything else to it, would spoil its perfect taste. It's even said, that using too much soy sauce or wasabi is wasting your sushi and is frowned upon in some restaurants. So, please, try at least once, to eat it alone and enjoy its full aroma!
See related