8 TOP best Japanese street foods not to be missed
Starting with colorful morning markets and ending with night markets, you can get in almost every place something that is really fresh, with a lot of taste and that smells wonderfully. Not only small towns or villages do have their own local markets. You can also find them in any big city. Okayama, Sapporo, Fukuoka,... Just need to know where to find them. Remember too, that sometimes you can find them also in temples! Yes, in temples, check for example these in Kyoto.
What is unique about the street food is its freshness. You can watch the whole cooking process or get it straight from the main vendor. Fish, fruits, vegetables, all of them as fresh as possible. No long term storing, no freezing.
And that smell on streets... All aromas - spicy, sweet, whichever you want. The smell of a smoked fish or the one of a grilled meat melts with the smell of all fried snacks. And in Japan there is a lot of them - tempuras, takoyaki, kushimono (chicken yakitori, pork yakiton), karaage (fried chicken), kushiage (also known as kushikatsu) - deep fried food on a stick, and a lot more.
We traveled from North to South, and from East to West, and here is our TOP list. Hope you like it too!
1. Smoked fish – especially mackerel form Sapporo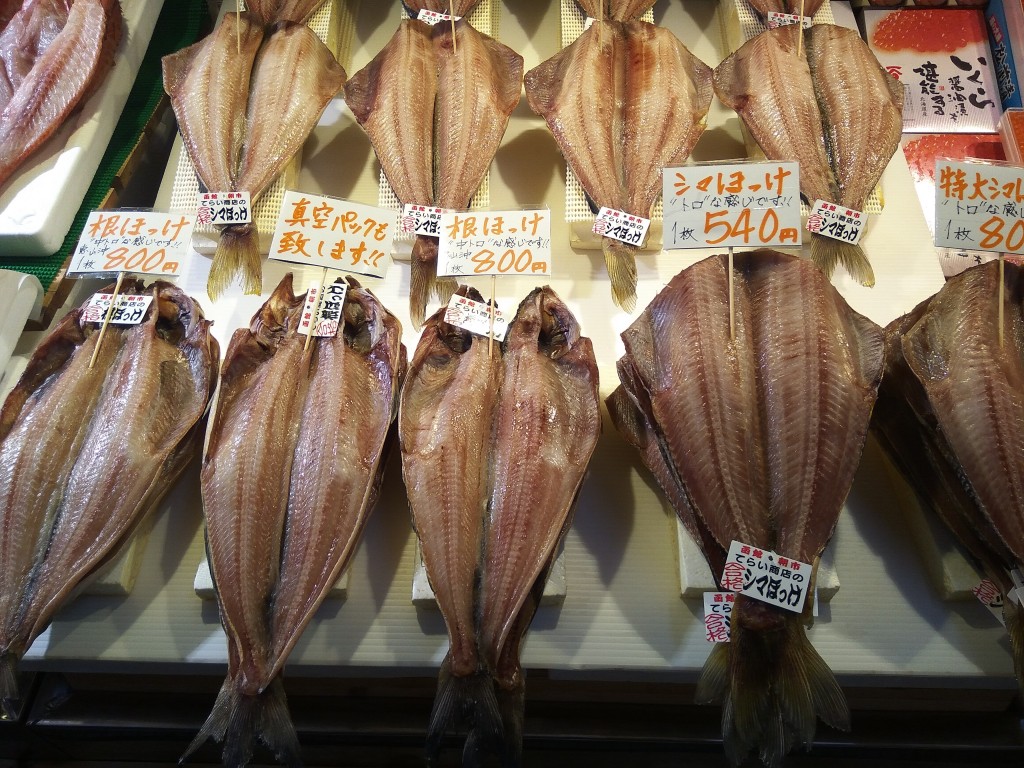 If you are on Hokkaido Island, you cannot miss morning fish markets. Fresh, smoked, grilled,... all kinds you might think about. Please, don't think, that places like that must smell terrible and be disgusting. That is not true! Fresh fish meat, stored on ice or nicely laid, do not resemble old-fashioned fish markets. And if you have a chance visit the market in Sapporo - Nijo Market, that is opened more or less about 7 AM.
Their specialities include crabs, smoked and raw mackerel, salmon roe and all other kinds of seafood.
The mackerel that you can buy their is great. It is so delicious - a creamy meat, that melts in your mouth. Not so salty and not so smoked. Thanks to that, you can enjoy the real taste of the fish.
2. Gyoza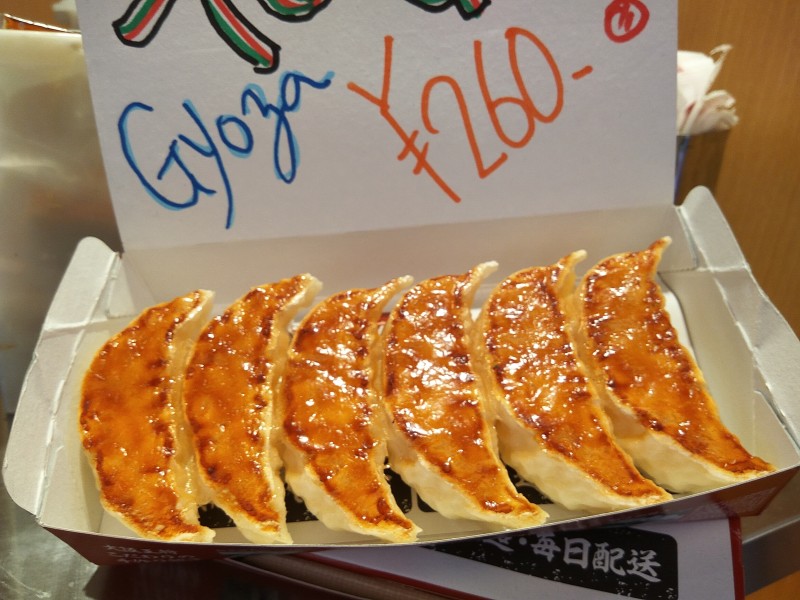 Gyoza is a Japanese style dumpling. It is stuffed mainly with cabbage and some kind of a meat, usually that is pork. It is fried on one side and served with soy sauce. You can buy it in all convenience stores, however trying them straight from the stall is a great thing! Freshly prepared and crunchy is a must try. Don't miss these from Okayama. Read more about Gyoza.
3. Squid tentacles skewers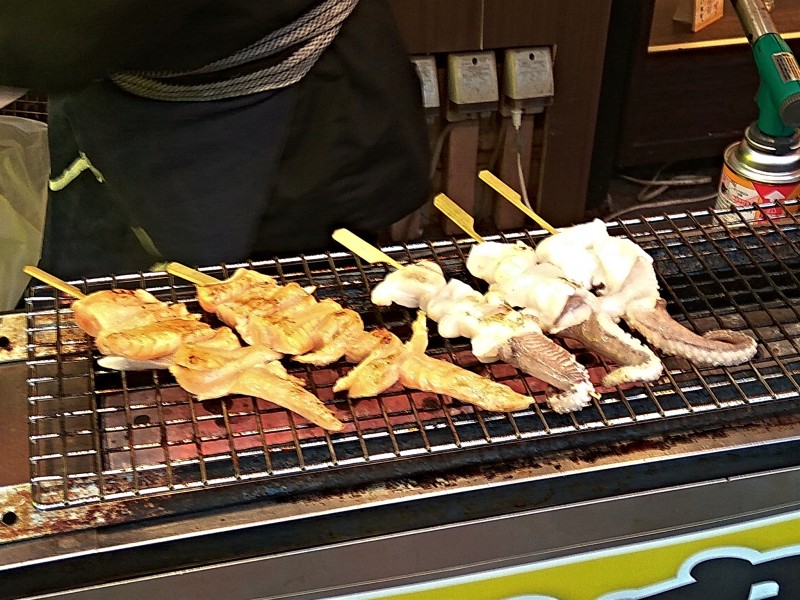 Another great food from Okayama - skewers. But, not as we know them. No chicken in it, no BBQ sauce. Instead - something local - grilled squids.
4. Takoyaki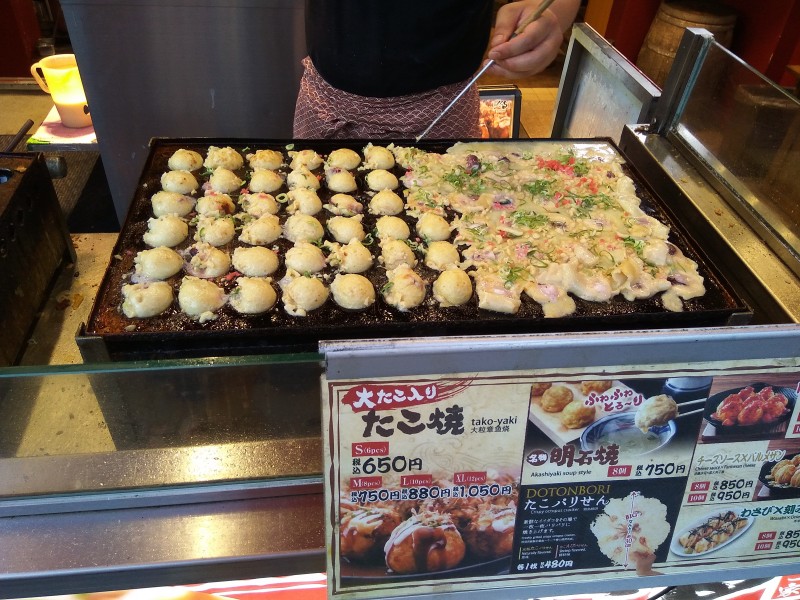 Takoyaki - what is that? Tako in Japanese means octopus. So, takoyaki is a ball shaped snack , that is filled with mainly minced octopus and some vegetables. Takoyaki is prepared quickly and in a special mold. It's crunchy and soft. Flavorful and satiating.
5. Grilled river fish
Vine Bridges in Kazurabashi are one of top attractions in Iya Valley. Remote regions, wonderful views, waterfalls, little shrines. All that let's you feel like in a wonderland. No stores, no souvenir shops, rare transport. An isolated region, where you can find nature and history. Hungry? Try a grilled fish from Iya River! Fresh water, natural charcoal and smoke and a perfect view - what could you want more?
6. Melons form Hokkaido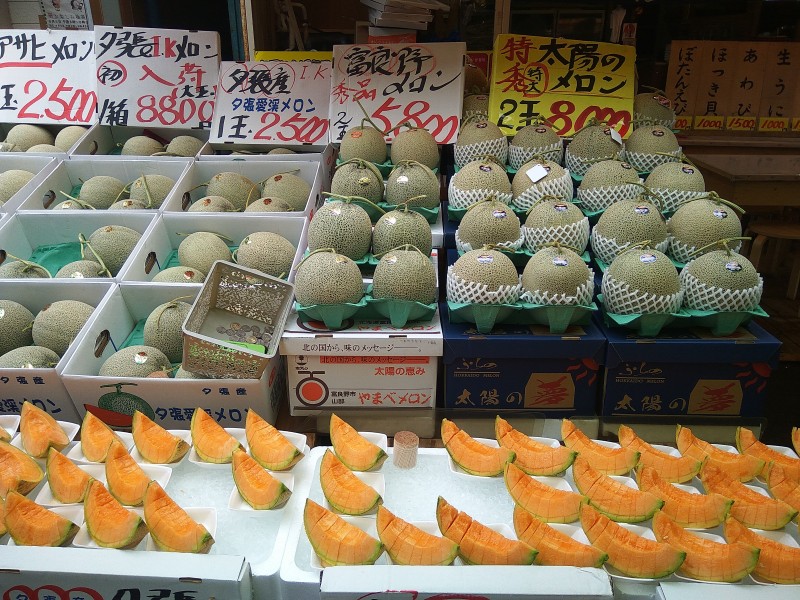 Hokkaido is also famous for it's melons. So fleshy, so colorful and so aromatic! You can smell it all around. Buy one or two, or just try them at the Nijo Market in Sapporo.
7. Bottled Green Tea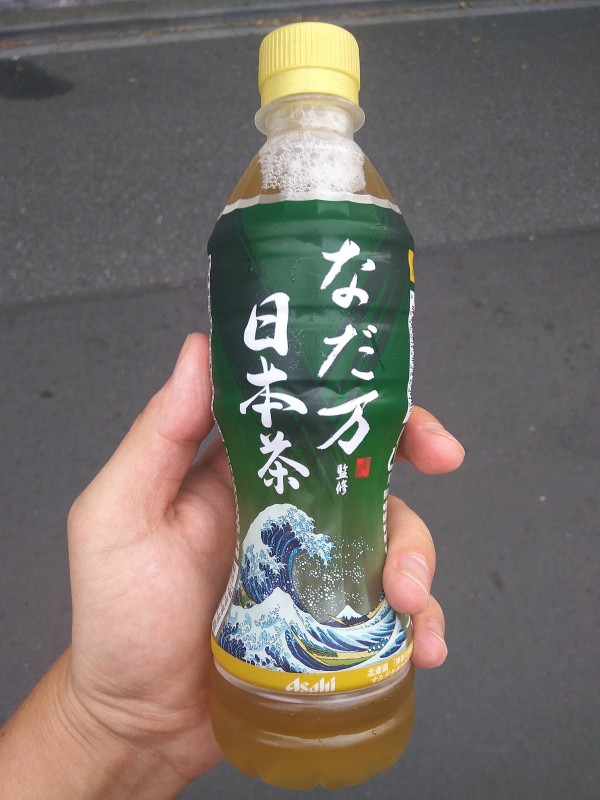 Vending machines with tea or coffee are almost at every corner. Relatively cheap and easy to grab on the go. Add to that an enormous selection of teas and their good taste. Refreshing, bottled tea is not only a good alternative to any other drink, but is also a great thirst quenching option. Select from roasted rice green tea, jasmine tea, black tea, milk tea, plain tea,..
Read more about Japanese bottled teas.
8. Matcha tea ice creams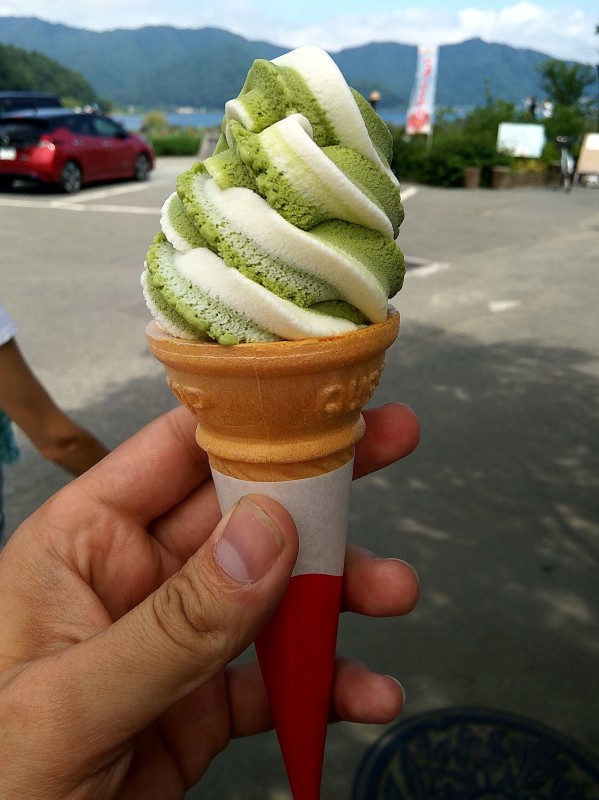 Have you ever tried green ice creams? No, not from spinach, not green apple ice creams, not kiwi ice creams. Green tea ice creams that are prepared with matcha tea powder. Not so sweet as regular ones, unique in their taste and rarely available in other countries. Try them while admiring the great view of t the Fuji Mountain!
Read more about Japanese sweets.
See related