Travelling around Lebanon we had a lot of opportunities to try their unique local food And what is the best about it, is that all these meals were from small stalls or eaten in little bars. But the thing that unified all of them, was that they were tasty, nicely served and full of flavors. Cooks did really care about the cleanness of their working space and tables for guests.
We started our culinary journey in a small restaurant close to Mount Harrisa near Beirut. Simple tables and small chairs. Some of them were outside with a perfect view over the bay. A simple design of the interior made you feel as at yours and didn't force to behave unnaturally.
Close to us were sitting and vividly chatting and laughing Lebanese, that probably came there for their lunch. From their behavior you could see, that enjoy spending time together and having fun. We sat close to them and order our first Lebanese meal.
The first meal we had was manouche. Sometimes manouche is also called fatayer, Lebanese pizza or spelled in another way as manou'che or man'ouche.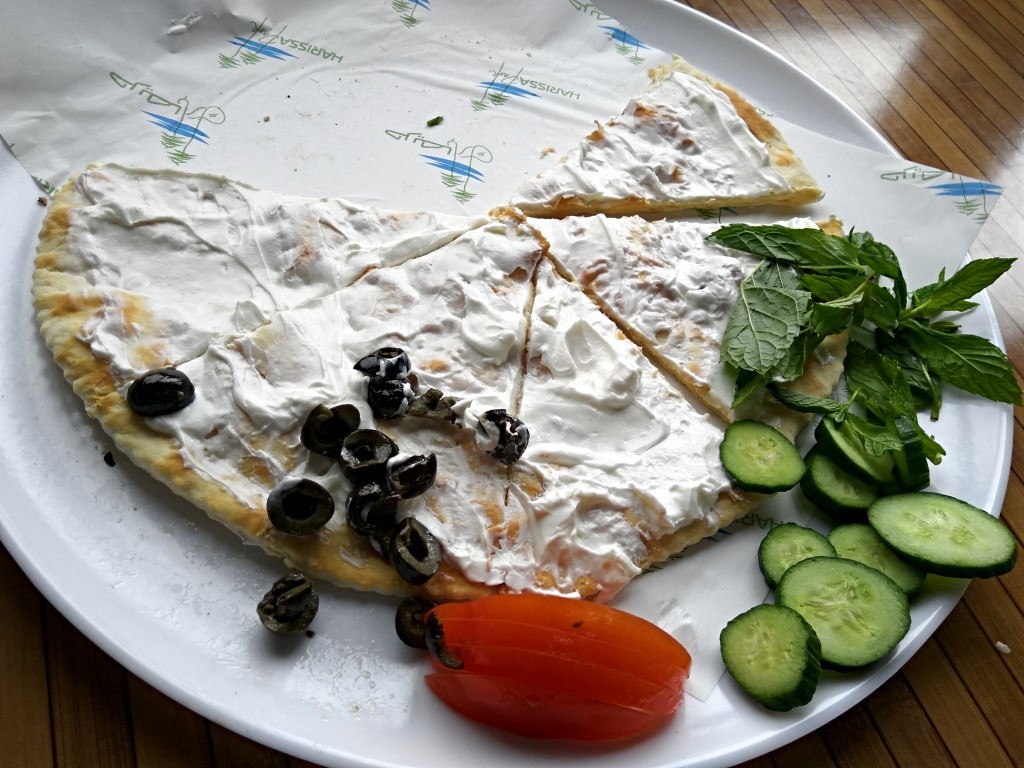 Manouche is, generally speaking, a kind of a Lebanese pizza on a thin base topped with either zaatar or with any kind of Lebanese cheese or with minced meat. So, for example for a cheese topping it could be labneh, akawi or chanklish and lahme baajin or kishek for a meat topping.
Manouche is eaten both for a breakfast and for a lunch. It is a great meal that gives you energy, but after which you do not feel heavy.
The recipe for the dough is really simple – all you need is flour, water, a little bit of active, dry yeast, vegetable oil, salt and sugar. So, at the first glance nothing very extraordinary. But in fact, topped with labneh and garnished with fresh peppermint leaves, olives, cucumbers and tomatoes, makes a unique taste.
Manouche is baked in a large open stove. It is put inside the stove with a long, special shovel and baked for about 10 minutes. Then it is topped with selected cheese or meat or just with zaatar, that is the most popular choice.
We selected labneh cheese and it was a good choice. This refreshing white, creamy cheese accompanied by greens and fresh peppermint leaves made that meal a light one but still satiating.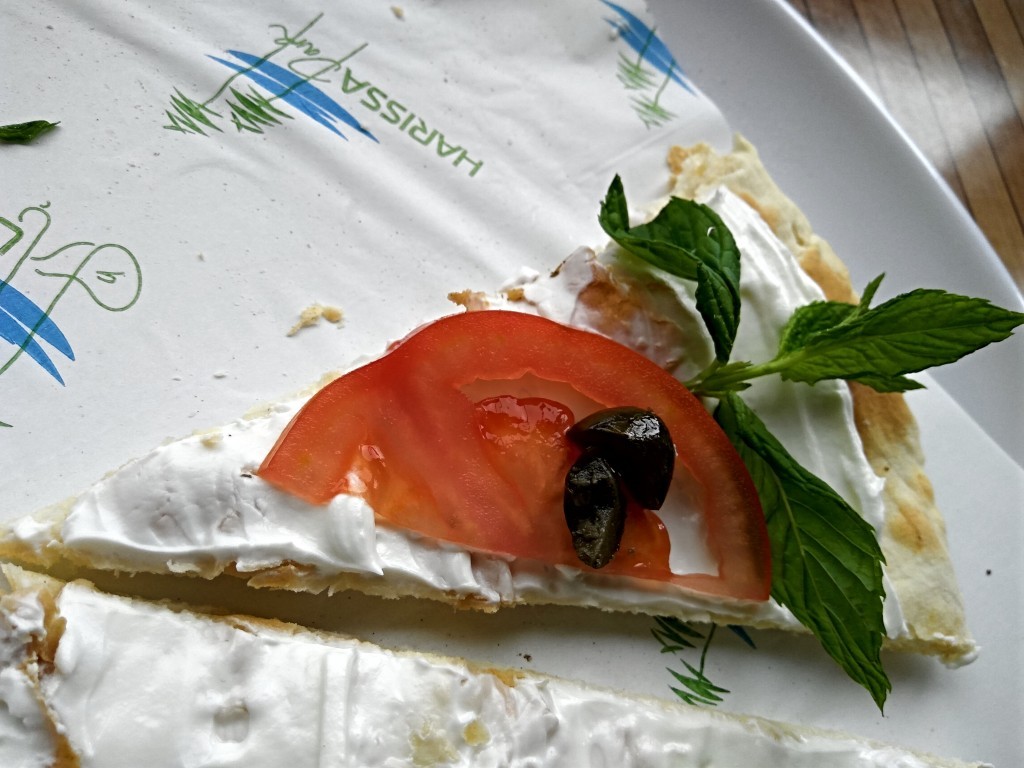 Another thing was, that it was nicely served and with almost all colors on your plate. You had white color from the labneh cheese, red from tomatoes, black from olives and green from peppermint leaves and cucumber.
See related