One of a traditional and loved sweets in Lebanon is halva. And believe me – it is really good and worth trying, even if you do not like sweets very much. Well, yes, it is sweet. It is even very sweet, but it is also delicious.
If we hadn't been given a small portion of it by a local seller, we even wouldn't have thought about trying it. And finally, we ended with eating and trying a lot of them. Lebanese halva of different flavors and textures.
Let's start our story from the beginning. The selling guy was very nice and completely different what we could expect from a stall seller. He was tempting us by giving us bites of halva. He was encouraging us, but not forcing us to buy anything. He was just cutting off small parts of halva from a big block of it and was handling it to us.
The first one I picked and tried, as it seemed to me to be the best one, was halva with pistachio nuts. The color was a little bit greenish, inside big parts of pistachios were visible. Marvelous! That halva was soft, creamy and a bit oily, however well balanced. The sweet taste of halva was mixed with the salty taste of pistachios. And that was, what made it even more interesting.
The second one was a halva with walnuts. That was the one that I assumed would be the worst one from all these I liked to try. I was afraid, that the bitterness of walnuts, would affect the whole taste. So in fact, that it would be a composition of a lot of sugar mixed with something bitter. And believe me or not, I was surprised by what I tried. The first thing was, that these walnuts were not bitter. Nuts used for that halva were young nuts, so delicate, soft and totally not bitter after crushing them. Big parts of them were indulged in the plain halva and the whole aroma was very good. That halva was also the most expensive one.
Then the guy gave us a small portion of a halva with chocolate. That was the one that tourists enjoyed the best. Well, you know – a combination of middle-eastern flavors with traditional European ones. However, that one did not convince us to be the one selected. From my point of view, it was double as sweet as a plain one. Even though the chocolate was not a milk chocolate, but something in between a milk and a dark one, the taste was still full of sugar.
We also tried two plain halvas – one that was made in a traditional way – with sugar, and another one, in which sugar was replaced by honey. Both were very good. The texture of the halva was the same – soft, creamy, a bit oily and it was possible to distinguish some very small granules of seeds. What is interesting – the honey halva was sweeter than the traditional one!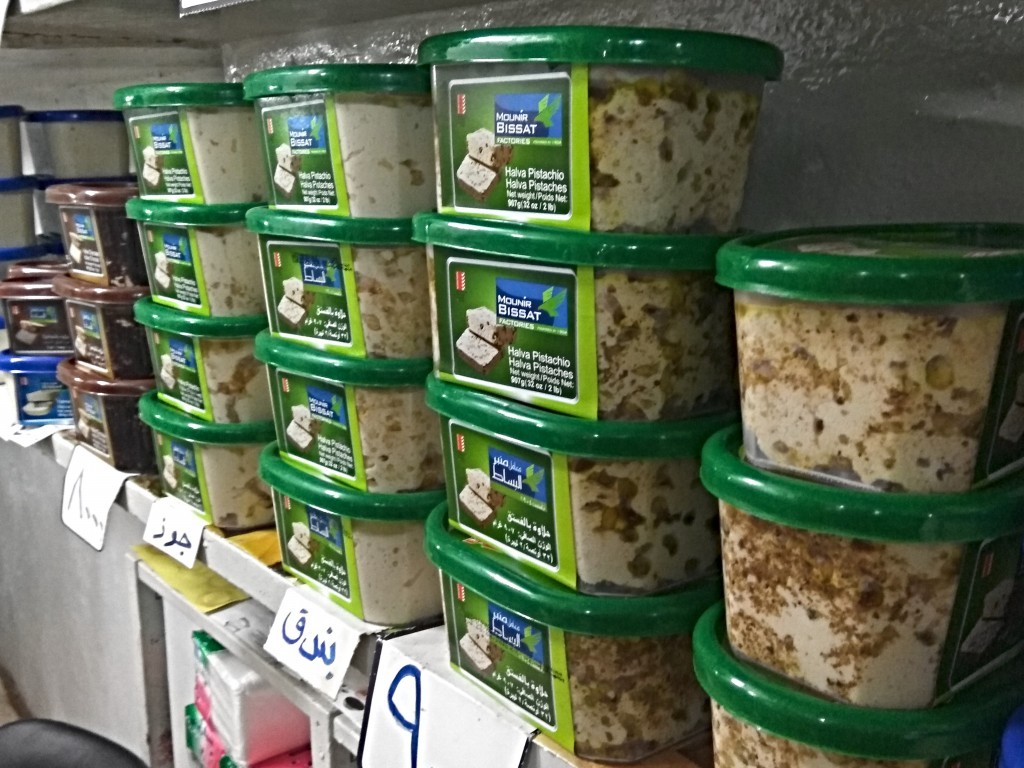 Although we had no intention of buying any sweets we left the stall with two blocks of halva – one with walnuts and one with pistachios. We decided to select these two, as they were unique in their ingredients. Local nuts and seeds cannot be replaced by any imported substitutes that are used for production in Europe.
But... even if you do not have an opportunity to buy it directly in Lebanon, you could try making it at home!
It is not so difficult only a couple of ingredients, that you can either buy in any shop with organic food, or you could import from some Middle Eastern countries – so give it a try!
See related