MUSA Craft beer tasting in Portugal
Portugal, Lisbon - a beautiful city. Full of old buildings with gorgeous facades, old fashioned, but so charming trams, cobbled streets and this unique atmosphere. A mix of medieval ages with 18th, 19th century and modern times. A perfect composition of architectural gems with trendy shops, restaurants and cafeterias that serve a great food. Notable buildings are located in every corner. Big plazas with trolleys with chestnuts, pigeons and sun even during the winter time. So relaxing, so letting you feel be in another world. Some kind of magic.
Add to that beautiful Christmas decorations, lanterns and illumination. Sound and light shows held in the evening remind you your childhood. You could visit the for days, and every time you would discover something new, something as interesting as you did previous days, or even more. Starting early in the morning when all is still closed and stroll till late evening hours. You cannot restrain from doing that. So were our days spent in Lisbon. Started early in the morning and ended just before midnight. We did not want to miss any moment of every hour. Such a pleasure to watch people starting their business, rushing to work, then having a sip of coffee in a cafeteria, and finally coming back home or heading to restaurants or bars. With a glass of wine in hand, some strong alcoholic drinks or beer, cervejarias and pubs were full of people.
That was also a great and relaxing time for us. We were spending our late evenings in bars that served craft beer and were giving an opportunity to try something new. Something that we could not taste in any other place. One of the places like that was MUSA cervejaria close to our hostel. Cozy, even though it had a raw decoration and was basically furnished. Nothing sophisticated, no sofas, no soft chairs, just wooden bunks and tables. But it had such a unique climate that we were ending there our every evening. A good selection of beers, great stuff and a nice music allowed us to fully relax after a long day of visiting Lisbon.
The beer selection was sufficiently big. Still a lot of different types, but also not too many. About 14-15 different beers in two sizes (small and large - 0,3l and 0,5l respectively) gives the possibility to make a decision in a couple of moments and try more than one.
MUSA beer menu
The beer list included:
Mick Lager - Pale Lager - 4,8%
Born in the IPA - India Pale ALE - 6,5%
Red Zeppelin - Red Session IPA - 5%
Twist and Stout - Oatmeal stout - 5,5%
Frank APA - American Pale ALE - 5%
Saison O'Connor - Saison - 6,5%
Blondie - Blonde ALE - 4,5%
Wheat of the moment - Hoppy American wheat - 5,7%
Severa - Barrel aged imp stout - 11,7%
Marzilla - Marzen - 5,4%
Dipache Mode - Double IPA - 8,7%
David Brut - Rose Brut ALE - 6,8%
Dolly Porter - Imperial Coffee Porter - 7,5%
Psycho Pilsner - German Pilsner - 4,5%
Apart from that, what I think is really great, they were serving tasting boards. A great choice if you would like to try different beers at once. Served on a wooden board with four glasses of 120ml, gives you a chance to choose your top four picks and if satisfied - then, why not take another glass of it in a bigger size?
MUSA tasting board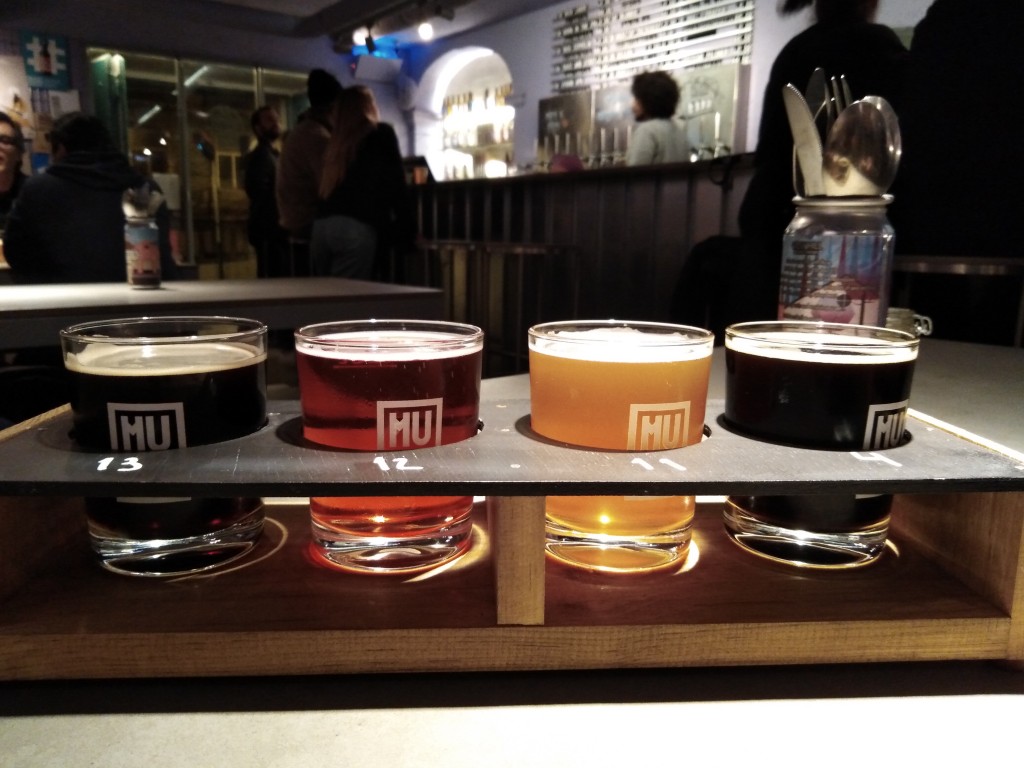 We tried a couple of them. I must admit that not all of them, but the majority :) A big pleasure!
We started with this tasting board. Choosing Twist and Stout (number 4), Dipache Mode (number 11), David Brut (number 12) and Dolly Porter (number 13). We were advised to start with David Brut, followed by Twist and Stout, Dipache Mode and finish with Dolly Porter.
So, how did they taste like?
David Brut
David Brut is a rosy brut ALE. No sweetness in it. Sour and fruity. A composition of citrus fruits with red berries. It contains 6,8% of alcohol, but you cannot feel it while drinking, so you could sip it as a juice.
Twist and Stout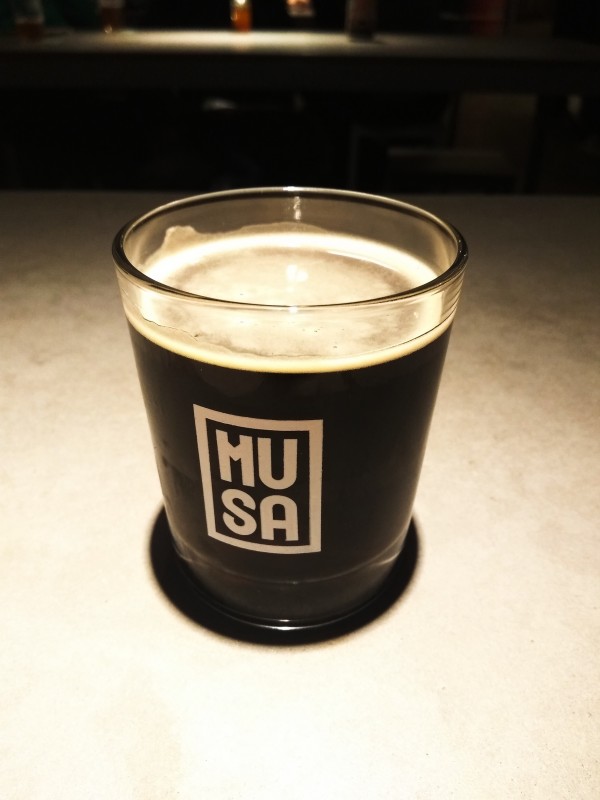 The next one was Twist and Stout marked with IBU 30. That is an oat stout, rather low in alcohol - only about 5%. It is velvety but also bitter. Is topped with a creamy and ivory foam and when you smell it - you can distinguish tobacco scents. While tasting it, you will find some chocolate, coffee and nut flavors. Apart from that butterscotch and toasted malt aromas can be found in it. It is dark in color as a proper stout should be.
Dipache Mode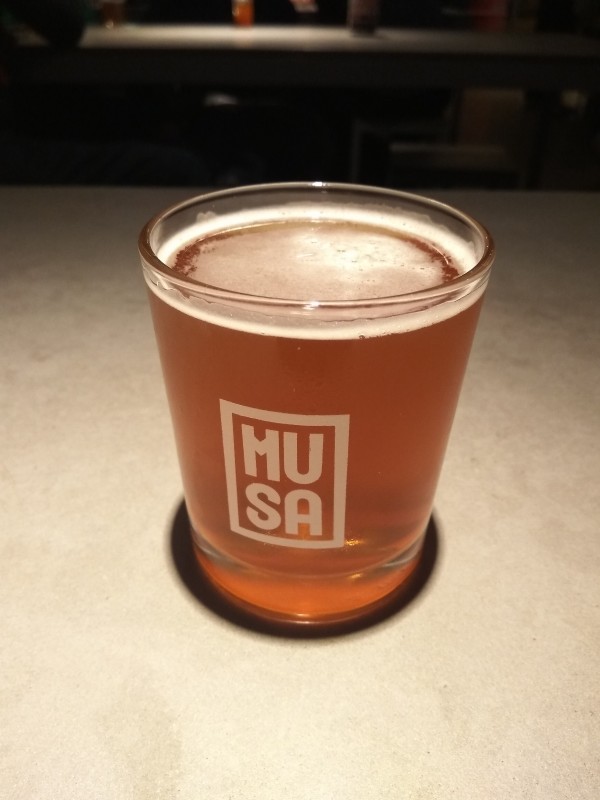 Right now time for number 11 - Dipache Mode. A double IPA with a remarkable alcohol voltage amount of 8,7%. This one was definitely bitter with no sweetness in it. Only the smell might mislead you - not so strong, not so bitter but with some hints of sweets. Actually, it was not very smelly, but the flavor was rich and full. Mocca coffee mixed with dark chocolate. For me, it was like eating Merci chocolates - the one that consisted of two layers - white chocolate and coffee flavor. Not sweet, but still giving you a big pleasure.
Dolly Porter
The last one from our tasting board was Dolly Porter - an imperial coffee porter with 7,5% of alcohol. This one was a composition of different aromas and flavors. On one hand, it was a little bit sweet and mild, had a fruity aroma and some scents of a white wine, but on the other hand it was bitter at the end.
All of them were good - so different and so unique. None of them was a copy of another.
Tap craft beers
Other evenings we tried also some other beers. Both IPA na APA beers were my favorites, while my husband's pilsners and regular lagers.
Born in the IPA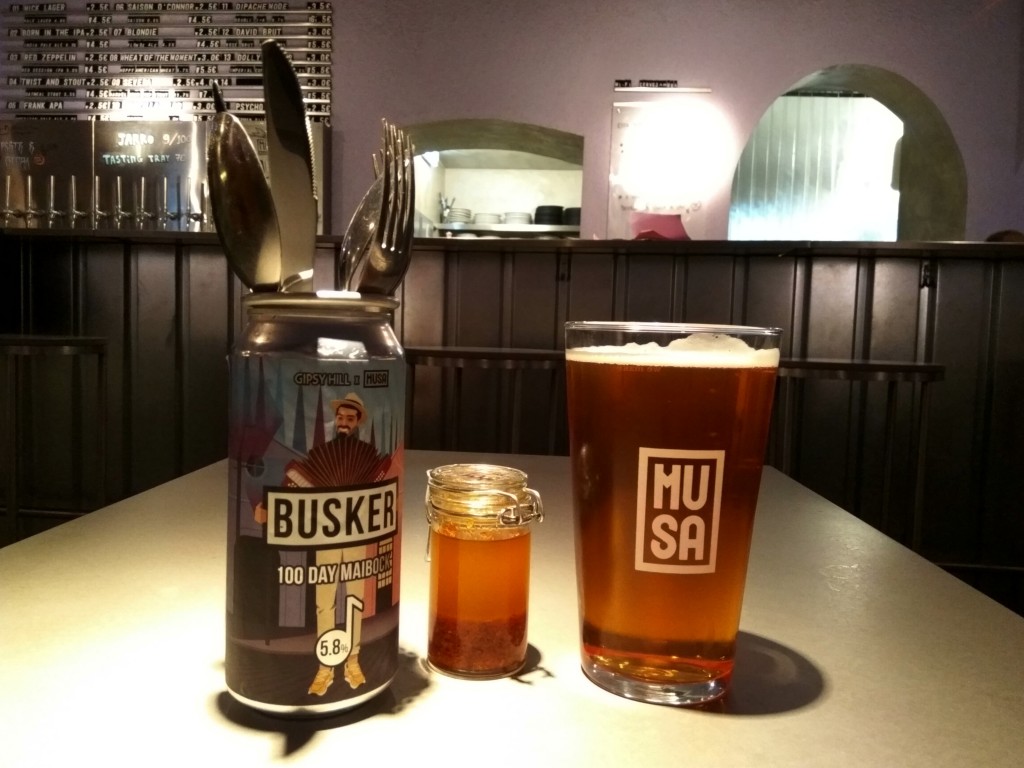 None of my picks was a mistake. Let's start with IPAs. The first one - Born in the IPA is remarkable for its IBU classification - 70. It contains 6,5% alcohol. It has notes of citrus fruits, pineapple and some other tropical fruits like grapefruits and mangoes. Its has a deep orange color and is transparent.
Red Zeppelin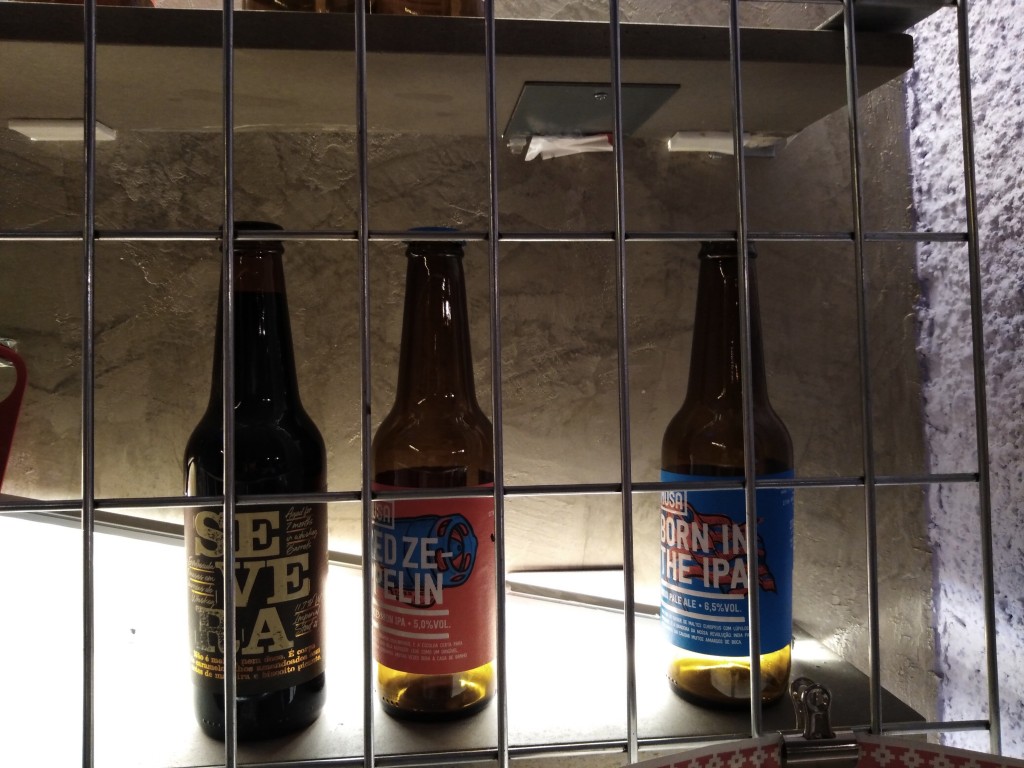 Then there was a scarlet in color Red Zeppelin red session IPA beer with IBU 35. Of a medium body with scents of a pungent pine, peach and orange. At the end, some bitterness was still on your tongue.
Saison O'Connor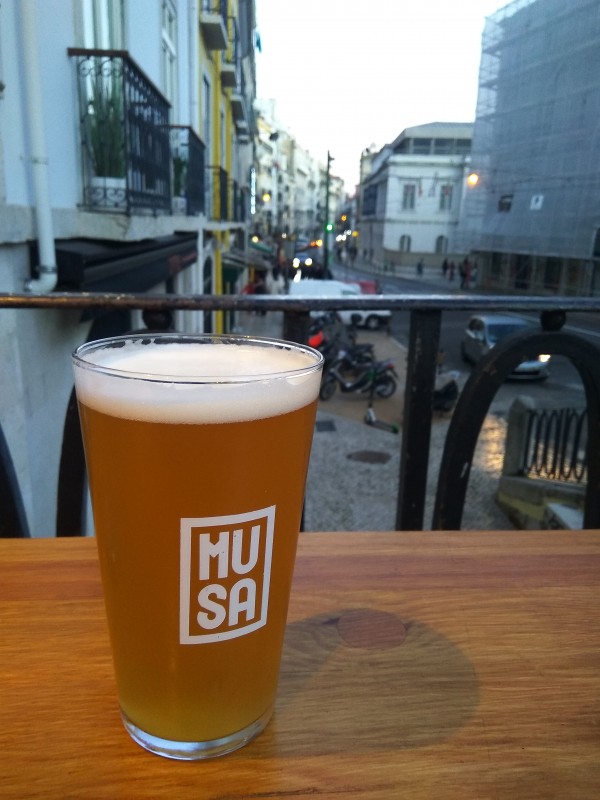 My next choice was a 6,5% Saison O'Connor - IBU 24. Fruity in the aroma, with some hints of spices. The color was light and so was the malt flavor. However some bitterness could be distinguished. It was still refreshing as the carbonation was high.
Frank APA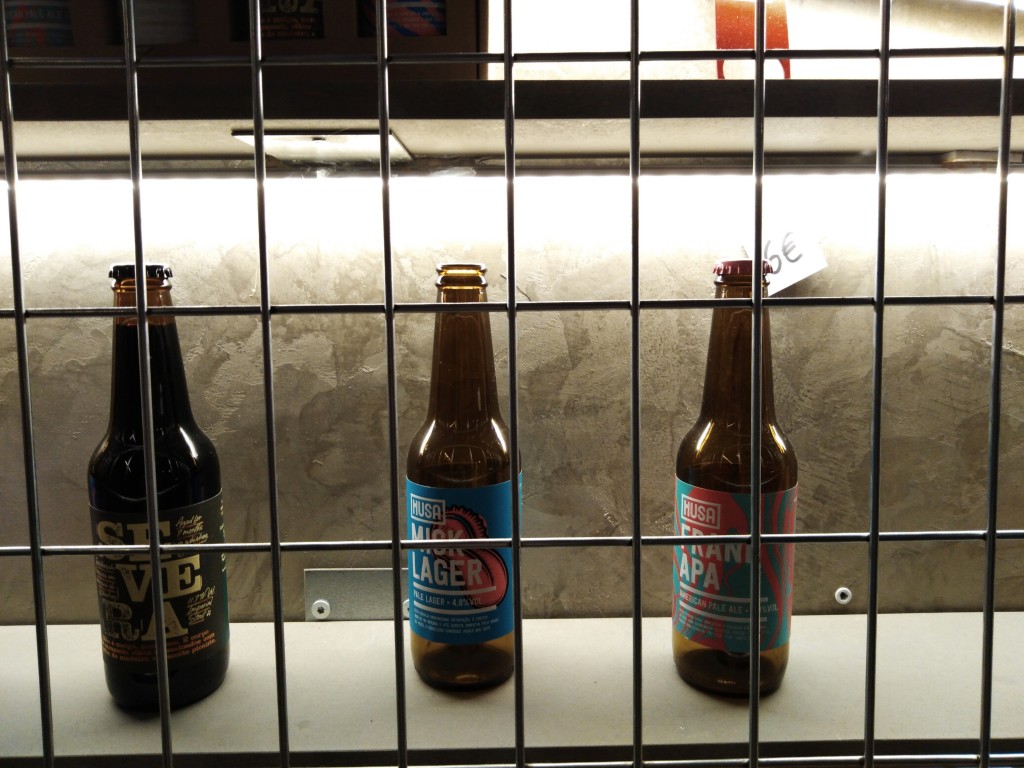 Finally I chose Frank APA. An American Pale ALE, with IBU 35 and 5% alcohol. This beer was very aromatic. Had some tropical and citrus fruits notes. The body was soft, the color was amber. What was really nice, was a mild bitterness at the end.
Let's go now to my husband's selection.
Mick Lager
He started with an orange in color pale lager Mick Lager of IBU 20 with 4,8% of alcohol. According to him, hints of hops were remarkable. So were these of toasted malts. It was easy drinkable, just like a hop juice. Good for us that it had only 4,8%.
Psycho Pilsner
Then came Psycho Pilsner. Another German style beer. This time not a lager but a pilsner beer with IBU 39. The color was light in color and had a thick, white foam. Its flavor was a composition of sweet cereals with herbs and flowers. Only 4,5% of alcohol with some bitterness and malt after taste.
So as you can see, we tried quite a lot of them and I could say, that rather none of them did disappoint us. All different. Some more unique, some more common in taste. However, the best thing was the tasting board, where we could try four different craft beers and compare our impressions. That is also something, we highly recommend you do too!
Cheers! And do not forget to read our posts on craft beers in Japan (Hokkaido's traditional Otaru Beer) and Mexican beers (Best Mexican beer - TOP brands - list and review).
See related